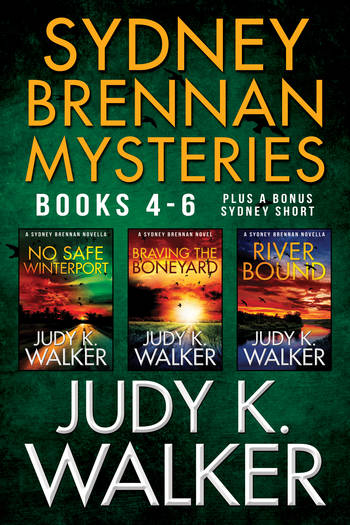 Sydney Brennan Mysteries: Books 4-6
Sydney Brennan is Back, and Tougher Than Ever!
Series: Sydney Brennan Mysteries Box Set
This bundle contains Books 4-6 (the novel Braving the Boneyard and the novellas No Safe Winterport and River Bound), plus a Bonus Short Story.
No Safe Winterport, A Sydney Brennan Novella: PI Sydney Brennan's vacation with her estranged sister in Winterport, Florida, is cut short when her brother-in-law becomes a murder suspect. With a hurricane bearing down on central Florida, it's up to Sydney to figure out what the man's gotten himself into.
Braving the Boneyard,  A Sydney Brennan Novel: Tallahassee PI Sydney Brennan is torn between loyalty to her mentor and duty to her client—facing life in prison—when her investigation uncovers a long-buried secret that someone is willing to kill for. How far will Sydney go to protect her friend's past, and his life?
Club Revelations, A Sydney Brennan Short Story: Private investigator Sydney Brennan drags her friend Noel Thomas along on what Sydney promises will be a straightforward job, but the two women soon get more than they bargained for in a sketchy Florida strip club.
River Bound, A Sydney Brennan Novella: When Sydney agrees to an unconventional first date—a lazy day canoeing down an idyllic Florida Panhandle river—what could go wrong? A lot, and this time it's not even Sydney's fault…
Get the e-book: