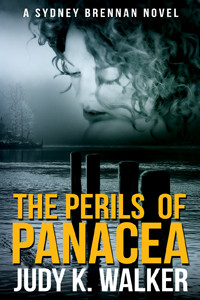 For over a decade, JD Devereaux's son has been raised to think his father is dead. But he's not. At least, not yet. 
Private investigator Sydney Brennan agrees to track down Devereaux because she'd do anything to give her friend a chance at knowing his father. Of course, Sydney believes the most dangerous thing she'll face in the Florida Panhandle is memories of her most recent investigation. She couldn't be more wrong.
Devereaux is a man on the run. He doesn't want Sydney's help, dodging her at every turn, and he refuses to tell her who's after him or why. Soon dead bodies start dropping, and Sydney isn't about to let Devereaux become the next victim. But when they're outgunned and outmaneuvered, will Sydney's quick wits and stubborn streak be enough to keep them alive?
Available in Ebook and Paperback
Want to know more about The Perils of Panacea? Check out:
Panacea Extras, including
Go to the Categories portion of the sidebar and

Select Panacea to see what I've written about the book there, or
Panacea Magpie Moments, to read about little bits stolen from real life and woven into the novel

Check out my Perils of Panacea Board on Pinterest