BE ADVISED: This is a photo-heavy post, in case you want to switch out your viewing device to avoid frustration. 😉
Me here, back at my desk. Shh… I think the ants are under control, at least so far as my laptop goes. (Did I mention I put Vaseline on the power cord?) I am up to my eyeballs in the complexities of Dead Hollow Book 2, but I thought I'd take a quick break to share some photos from the off-island adventures that enabled the buggers to become entrenched in our absence. Off one island anyway… where do you vacation when you live in Hawaii?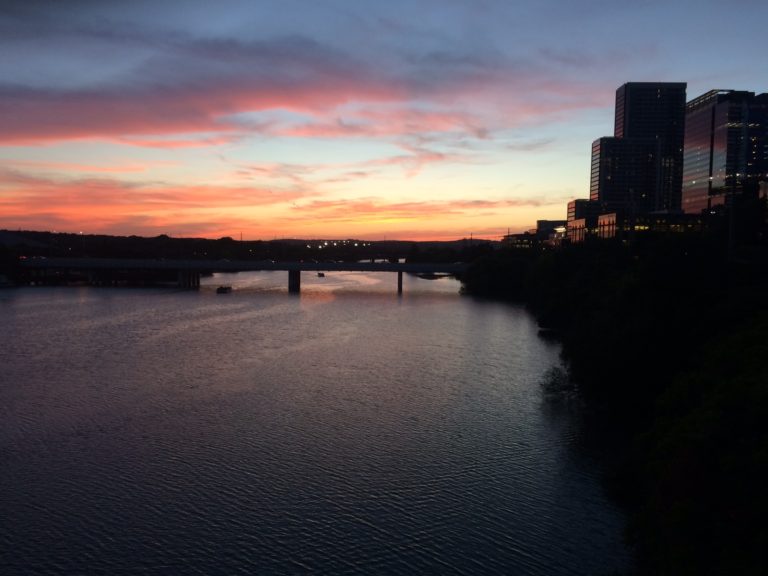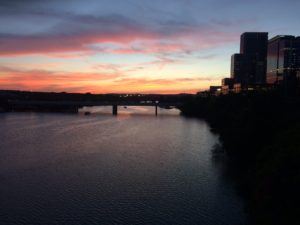 We actually started in Austin, Texas, where I attended an amazing writer's conference. I definitely found my tribe. 🙂 Austin seems like a cool city—I would love to eat my way through the Sixth Street food trucks—but I honestly didn't have the opportunity to see much outside of the Marriott. We missed the infamous bridge bats, but the sunset was still spectacular. Besides, I was so sleep-deprived (stupid red-eye flights and jet lag) that if I had seen a swarming mass, I might have chalked it up to hallucinations.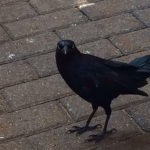 We did, as anyone who has been to Austin can confirm, see lots of grackles, and we never grew tired of watching them drink from the dog water bowls outside restaurants. Just think of the poetic sequels (or sideways stories?) Edgar Allen Poe could have penned with these babies around. (And yes, after just three days, we'd found Our Coffee Shop. It's a gift.)
Then it was off to New Orleans for a few days of fantastic food, family, and friends. What did we not find there? Appropriate clothing for the next leg of our trip—the lovely but chilly Pacific Northwest! (As you can imagine, my Hawaiian wardrobe pretty much consists of a drawer full of tank tops.) I'd never been to Washington, and I have to say, we met some of the most incredibly nice people in Seattle. Coming from a recovering Southerner, that means something. (Even the ones who beeped at us for driving without headlights on the interstate at midnight did it politely.) And is it any wonder they're nice? What a beautiful city, with an endless supply of chocolate and coffee. Seriously, everywhere you look. Plus, an amazing public library. I kept examining little nooks and niches and mulling, How long would it take them to notice I've moved in?
From Seattle, we drove to Anacortes to catch a ferry to San Juan Island. The car ferry was another first for me. It seemed so surreal (All of these cars are going to fit? And we'll still float?) and yet so perfect. I'm a water person, so I love the idea of having bridges and boats as part of my commute. Of course, as I currently live on an island where single routes in and out of communities become blocked easily and often, I'm sure the reality would quickly lose its shine.
Our timing was perfect. It was the transition period before the high tourist season, and everything was in bloom, including masses of tulips, which we do not get in Hawaii. Mount Rainier still had snow on its flanks and seemed to be in the background no matter where you looked, like some massive volcanic photo bomber. The weather was better than we had any right to expect–mostly clear and sunny, if windy–and I think my teeth chattered in earnest only once. I was walking barefoot across intertidal mudflats at the time, bundled in my windbreaker and every article of clothing I could fit beneath it. (For the record, not my idea, even if I was the last to turn back to the car.) The wet sand and Pacific-adjacent water felt warm on my feet relative to the air temperature, so that should tell you something. 😉
Our time on the island passed quickly (a few of the highlights: Farhad's amazing breakfasts at the Friday Harbor Grand; the San Juan Islands Sculpture Park; bald eagles and ranger tales at American Camp National Historical Park; and the annual San Juan Island boat parade), and we made our way back to Seattle by bridge and ferry rather than interstate. I have never seen so many mini, drive-through coffee shops! Our working theory is that eight months of the year it's too damn cold to get out of the car. Some of the stations were so tiny, I feared the poor baristas inside must employ the Stadium Pal in lieu of a restroom. (Here's David Sedaris reading his essay on the product, if you've never heard of it.)
All in all, we had a great time (as did my shanghaied mother-in-law) and look forward to more Pacific Northwest adventures. Check out the photos below (hover over a pic for its caption), and maybe you'll want to book a flight, too. Btw, Alaskan and Hawaiian Airlines crushed the mainland carriers. I'm just saying…