As you've probably noticed, I live in Hawaii, but I've been traveling on the mainland lately. I was recently lucky enough to revisit some of my (i.e. Sydney's fictionalized) old Tallahassee haunts.
I was surprised by the usual—how much some places changed, and how much others stayed the same—and also by my reactions to those changes and resilient bits.
I'll be writing about it soon, but I want to give my observations and reactions time to ferment into something beyond blathering, like sharing kombucha instead of stale tea. (Okay, I should have warned you, I'm still pretty time zone-addled, and the metaphors haven't caught up.)
Until then, I'm sharing a couple of shots from one of my favorite spots—the Riverside Cafe in St. Marks, Florida!
They'll be having the Stone Crab Fest this weekend, but if you're any kind of large crustacean, you might want to stay clear. People get a little mallet-happy.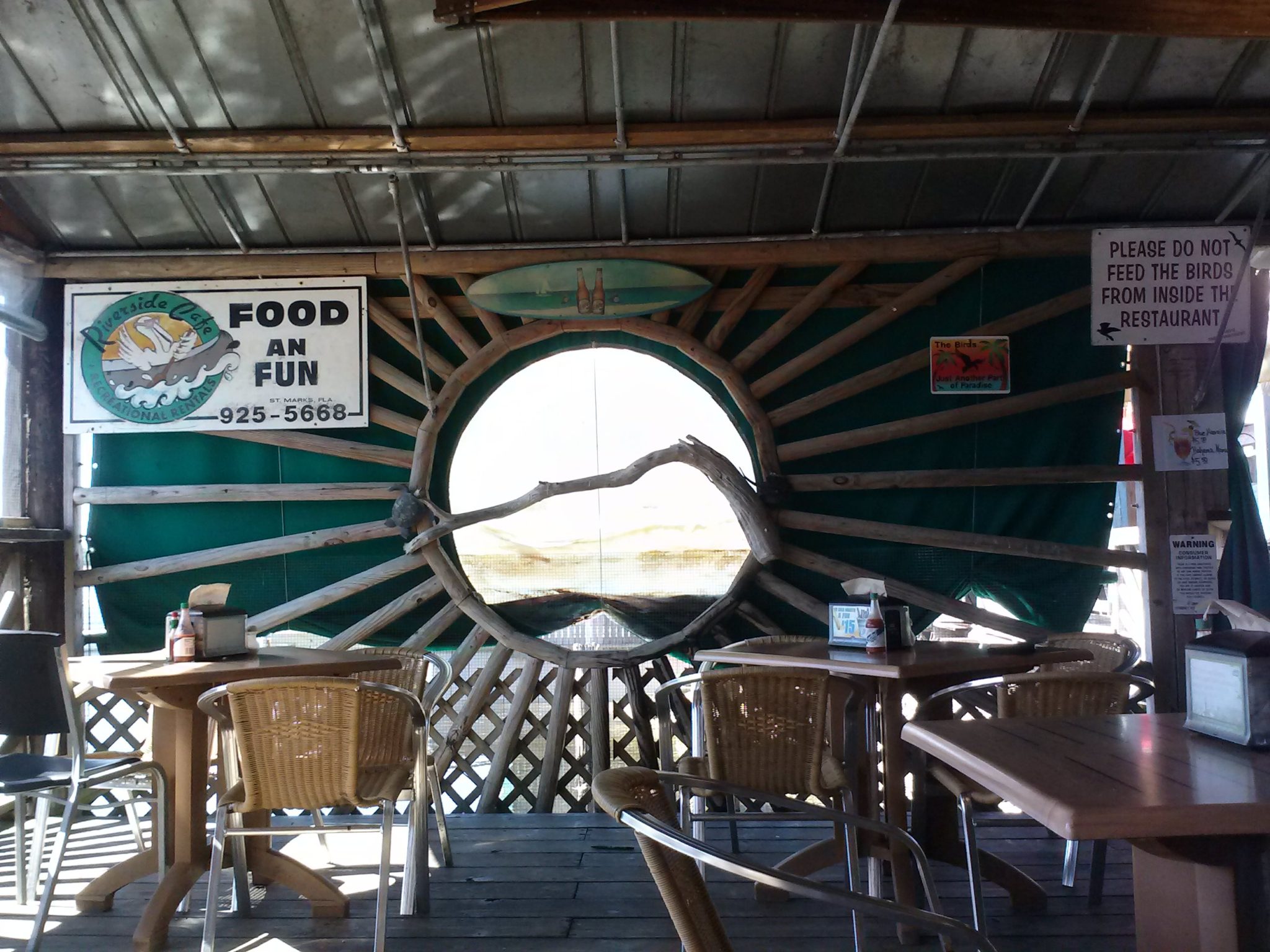 Want my recommendation? The fried corn something-or-other. (The veggie Philly no-steak sandwich is in the background.) This is the kind of thing that makes you love the south, especially if you're a cardiologist. It's little chunks of creamed corn, breaded and fried, with a horseradish ranch sauce on the side. And don't forget the sweet tea!
If you're feeling as lethargic as I was after lunch, you can always take the bike trail back to Tallahassee. It's only a dozen or so miles. 🤢
I also wanted to give everyone a heads-up that I'll be doing a BOOK SIGNING at the Public Library in my home town of Wardensville, WV, on Tuesday, October 28, 2014, from 6-8 p.m.
Drop by and say hi if you're in the neighborhood. I'll be happy to sign your copy of Back to Lazarus, and I'll have paperbacks for sale.
It's starting to look like a mini-reunion with family and friends and fellow Cougars. (That's East Hardy High School alumni, not predatory older women—I don't know what age that kind of cougardom kicks in, but neither me nor anyone I went to school with qualifies yet, I swear!) Hope to see you there!