My blog schedule is a bit off right now while I'm traveling, but I'm bringing you a Magpie Moments post with the hopes of having something more visually interesting for you later in the week.
Maybe a little caffeine would help me accomplish that goal.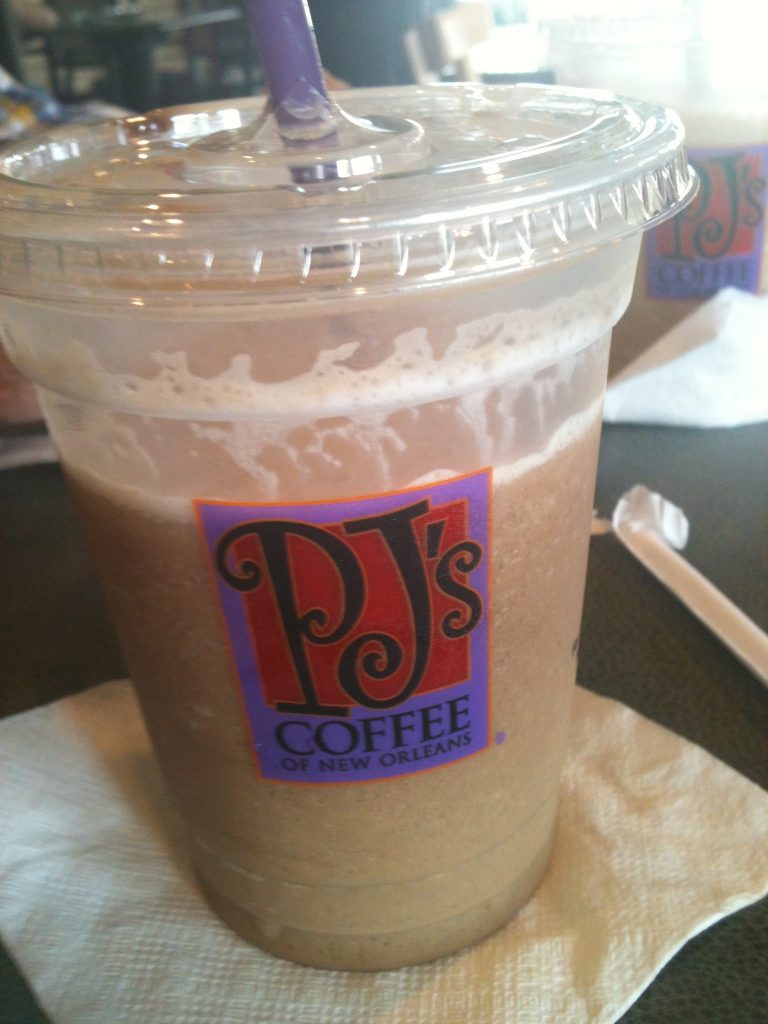 Which is, of course, my not-so-subtle transition to the subject of my post. ☕
I am a big fan of the various shades of Black Brew, and of the places where you purchase it, i.e. coffee and coffee shops.
Our "company" hot coffee is our favorite locally grown Kaū coffee.
Cold-drip Louisiana coffee with chicory lives in our refrigerator, waiting to be iced and diluted/enriched with milk. (It looks like raw crude oil and will curdle milk substitutes, but once you go cold-drip, you'll never go back.)
We've had granitas at PJ's thrice so far on our mainland visit, and I'm sure we'll have them again tomorrow. When visiting friends, we reminisced about the old days when we held court for hours in our old neighborhood PJ's uptown, powered by the caffeine and sugar-laden beverages. Sigh…
And, of course, coffee houses are great places to write. (If you can find a decent chair.)
I was living in Tallahassee when I wrote the first draft of Back to Lazarus. I was working part-time for an attorney downtown, and I'd often retire to a coffee shop nearby to crank out a couple of pages before meeting my husband after work.
My feet led me around the corner to my favorite coffee shop for some afternoon sustenance—carbs and caffeine. Most of the people sitting out front in the shade were familiar to me.

"Afternoon, Syd. Working hard or hardly working?" a grizzled older man asked me over the top of his cup of coffee. He wore his usual Veterans of Foreign Wars baseball cap, but I couldn't remember his name. Though he used the same tired line every time he saw me, he still seemed to think it witty.

Back to Lazarus (Chapter 3)
The inimitable All Saints Cafe, is the one I had in mind above.
I don't know about now, but at that time, they did their own coffee roasting on the premises. I think they used an old peanut roaster, but I wouldn't swear to it, and sometimes you could feel the heat and see the smoke inside hovering near the ceiling.
Or at least that's how I remember it. 😉
Mike and Richard were meeting me for coffee when they got in town Friday evening. The coffee house I'd chosen was sort of hippie/suburban bucolic—hippie because a lot of the alternative types hang out there, and suburban bucolic because it adjoins a park frequented by yuppie families feeding the ducks. Noel was taking me there after she got off work, which gave me some time to get her up to speed before the guys arrived for a strategy session.

Back to Lazarus (Chapter 22)
I had a different coffee shop in mind here: The Black Dog Cafe.
I also wrote some of Back to Lazarus there, but Black Dog was more often a weekend destination. Settled next to Lake Ella, BDC really wasn't a great place for writing on a computer (it was impossible to sit inside with such loveliness outside, except during rainstorms) but it was a great place for dog walking and people watching.
In other words, gathering inspiration…
[Exterior of All Saints Cafe, from Tallahassee Downtown; exterior of Black Dog Cafe and granita by Judy K. Walker]