The Sydney short story saga continues! This week's chunk of Club Revelations, the Sydney Brennan short story I've been posting in rough form, can be read here. Remember, you can read it from the beginning or skip ahead to Part 3 if you've been keeping up. At this rate, it will probably run to about eight parts, but no guarantees—I might get crazy one week and just post it all.
If you read last week's blog post, you'll know my husband and I were looking forward to seeing Jake Shimabukuro perform (and you may still have The Bohemian Rhapsody stuck in your head). Well, we were not disappointed, although we might have been if we hadn't left Puna extra early. The show just so happened to coincide with Downtown Hilo's Aloha First Friday celebration, so we were very lucky to get parking a few blocks away. (And I was very lucky to be wearing flip-flops instead of pretty girly shoes.) We passed food and music and art, but the most tempting diversion had to be the bouncy houses that filled Kalākaua Park. But no time for dilly-dallying—we were on a mission! To a Palace, no less.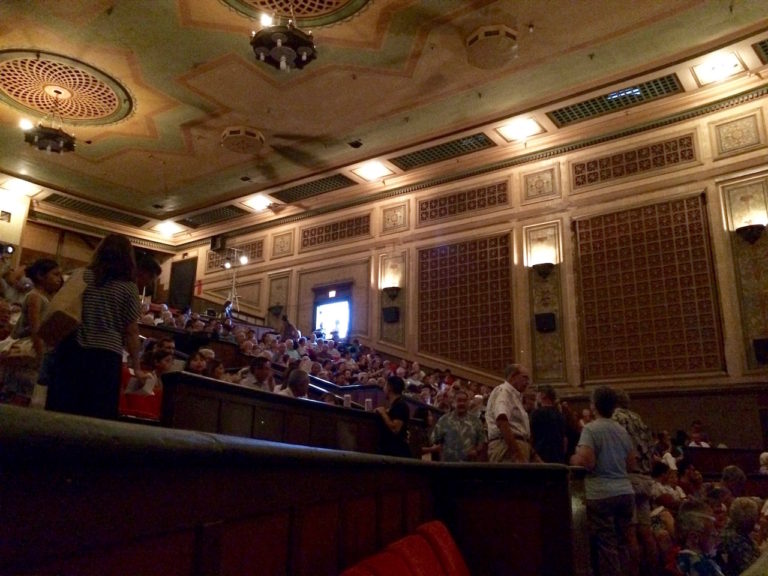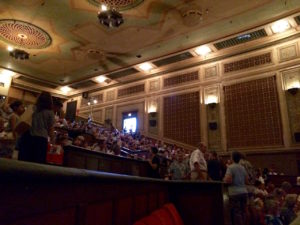 The Palace Theatre is a grand old downtown building (over 90 years old) with lots of character, but no air conditioning. They recently installed an impressive photovoltaic system that substantially reduces their operating expenses, so air conditioning is (hopefully) on the horizon. In the meantime, a basket of paper fans greets you at the auditorium entry (already empty when we arrived), and they often leave someone stationed by open exit doors to allow for more air flow.
My husband and I are used to no A/C, so we didn't think it was that bad. However, I definitely felt for Jake and his bass player Nolan Verner—they had to be melting while they performed onstage under the lights. (The bass accompaniment was remarkably seamless, with a few bass solos included as a bonus.)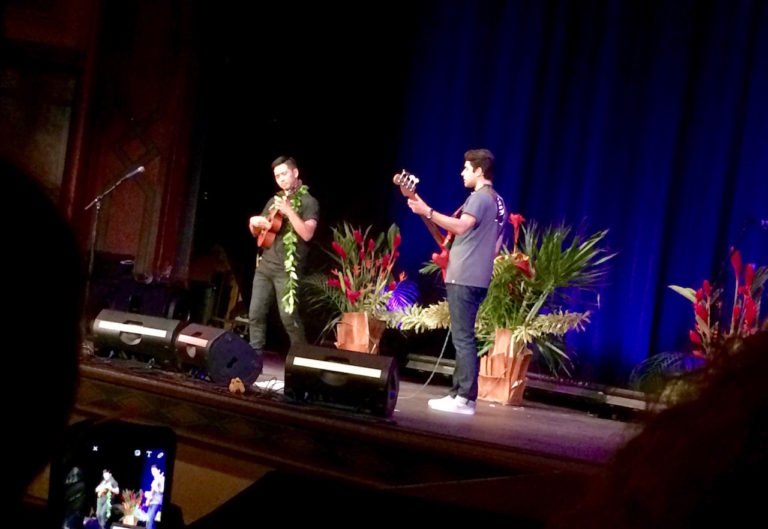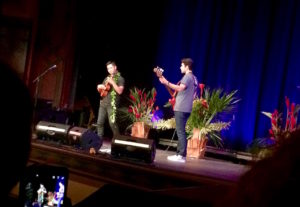 It was an amazing performance. Jake Shimabukuro is an ukulele virtuoso. Perhaps even more importantly, he is a man who is obviously having fun, smiling and laughing and literally jumping up and down while playing. (Don't worry—no ukuleles were harmed during the concert.)
I'll be honest—I didn't love everything he played, but I loved that he played it anyway. The man will not be pigeon-holed. For one song, he attached some kind of crazy amp that made his uke sound like Guitar Hero while jamming a solo. (Not crazy about that one.) He followed it with a flamenco song. (Loved that one.) He played original songs and covers, everything from ballads to rock anthems to traditional Hawaiian songs to an ukulele concerto. Seriously—he played an arrangement of a concerto he'd debuted with the Hawaii Symphony Orchestra last year, both hands flying across the uke in ways that seemed to defy the limits of human anatomy. Afterwards, he breathed a sigh of relief and said something along the lines of, "Wow, that was really hard." Before I'd stopped laughing, he'd moved on to the next song. The man must not have any feeling left in his finger pads.
So what did I take away from the evening, aside from lots of warm and fuzzies and great respect for a dedicated musician? Play what makes you happy. And play what makes life interesting.
Don't worry—I'll give you plenty of advance warning if start playing around with technothrillers or a fantasy series. 😉
[All photos by Judy K. Walker; and yes, in some crazy meta, nesting-dolls thing, the image in the bottom left corner of the photo of Jake Shimabukuro and Nolan Verner is the man in front of me taking the same photo]