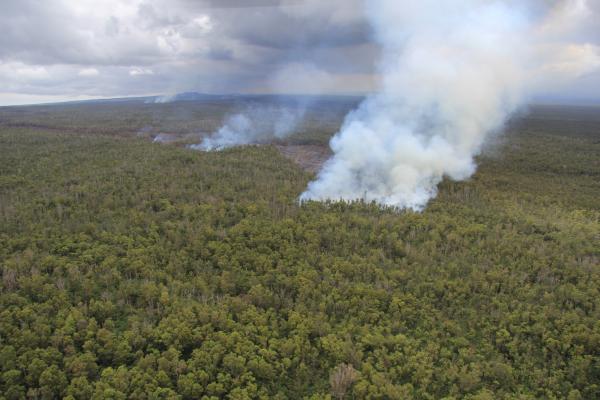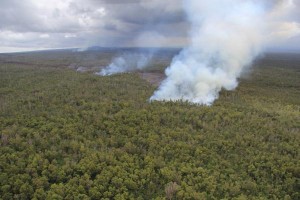 Okay, admittedly dramatic tagline, but there's a reason. Something's been distracting me this week, something different from my usual shiny object syndrome. I've hit my word count for the week, so for just this post I'm allowing myself to embrace the distraction, and share it with you, dear readers. My apologies if I ramble a bit, but distractions, like lava flows, aren't terribly linear.
There's been some discussion of the role of the media in what happened in Ferguson. Discussion is good. (By the way, neither the American Heritage Dictionary nor the OED defines discussion as two sides yelling past each other to rally their own supporters; have we forgotten that lately in America?) But I think something that gets lost in our arguments over fundamental rights and constitutional violations is this: People need to have their stories told. If a tornado rips through a town in Oklahoma, destroying people's homes and disrupting their lives, that's tragic. If I see it on the news, I can feel empathy, but there's really nothing I can do about it. But imagine you lived in that town, and no one outside your town knew what had happened. What if the people two towns over didn't even know your town no longer existed? How would that make you feel? Probably like nobody gives a shit.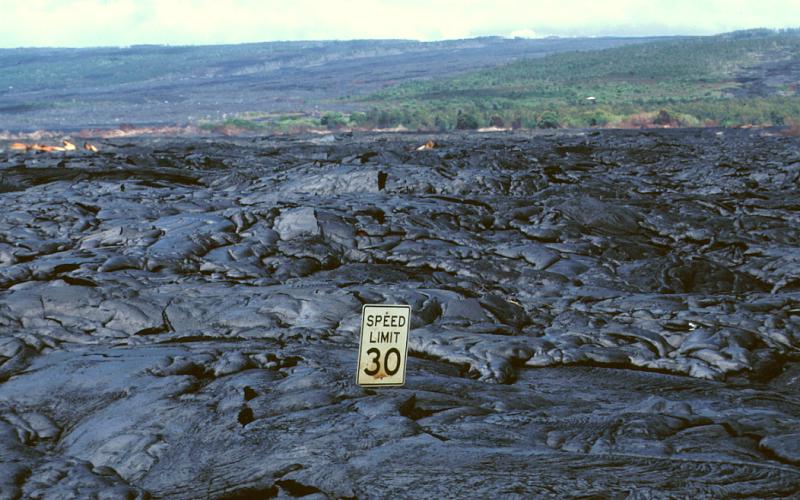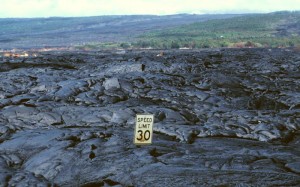 I'm sitting at my desk writing this with the intermittent sound of low-flying helicopters and the smell of lava burning its way through ohia forest. Kilauea Volcano on Hawai'i Island (The Big Island, which is NOT Oahu) has been continuously erupting since 1983. Lava doesn't just come out of the caldera (the big pit in the middle); it breaks out in different areas around the volcano. For example, in 1990, one of these break-out surface flows took out the town of Kalapana and a couple of subdivisions. You may have seen postcards from Royal Gardens with a street sign submerged in hardened lava.
On June 27th of this year, a new surface flow appeared and is headed for the town of Pahoa. (You can click here for a recent flyover video; no guarantees, but I might have waved.) There's no telling for sure where the lava will go until it gets there, but the subdivision of Keaohe Gardens is first in its path. Then–did I mention this?–the town of Pahoa. Pahoa is a small town with about a thousand residents, but several times that many passing through every day. It's the hub for lower Puna, and the kind of place where people carry water around in glass jars wrapped in socks. There's a high rate of dreadlocks per capita. The main street has raised wooden sidewalks. I can't say boardwalks because it feels more Wild West than saltwater taffy, and depending on the day you might get some stinkeye and a few harsh words. Pick any conspiracy theory or alternative therapy and you'll find someone there who believes in it and will discuss it with you as long as you care to listen. (And I mean WAY alternative, loopy alien-type alternative, not mainstream alternative that might be covered by decent health insurance.) But, in Pahoa and lower Puna generally, you'll also find incredibly creative artists and innovative farmers and some of the most genuine, caring human beings you could ever hope to meet, people that I can't imagine surviving anywhere else that's less accepting of their deviation from the norm.
In addition to the danger to Keaohe Homesteads and Pahoa Town, the governor has signed an emergency declaration because the lava could cross Highway 130 within two weeks. Crossing one measly road may not sound like a big deal (to the extent any sentence with lava in it can sound like not a big deal) until you look at a map and see that Highway 130 is the only road in and out of lower Puna.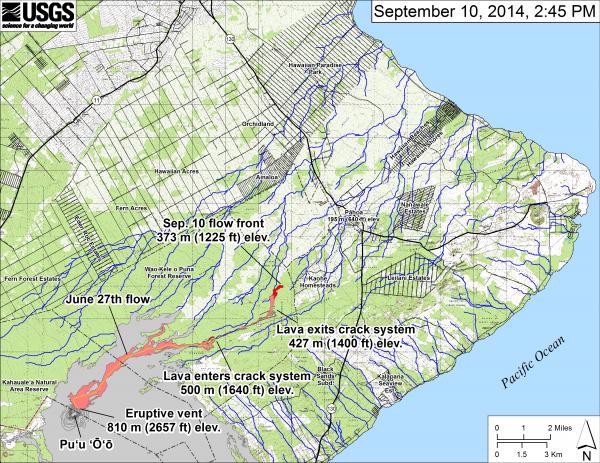 (By the way, to give you a sense of scale, the Puna district is the size of the entire island of Oahu, with a population of over 45,000 people.) That means communities including Nanawale, Leilani Estates, Black Sands and Kapoho will be completely cut off, and probably Hawaiian Shores and Hawaiian Beaches, depending on where the lava crosses the highway. Thousands of people will have to evacuate or be stuck. Whichever they choose, it will be for an indefinite period of time. Starting to sound like a dystopian novel yet, maybe a hint of Jeff Vandermeer? There is a coastal road (using the term "road" loosely, as we often do here in east Hawai'i) that hopefully can be opened to bypass the lava. Presumably, that is, until the lava flow crosses it as well on its way to the sea. And this road is at the back of Hawaiian Paradise Park, the second largest private subdivision in the United States. I live across Highway 130 from HPP, and let me tell you, the traffic can be crazy. It's a two-lane road with thousands of people traveling from lower Puna to Kea'au and Hilo every day. Plus they're trying to widen the road, so on a bad day construction can back traffic up for miles. Not that thousands of people evacuating will be bad traffic day(s).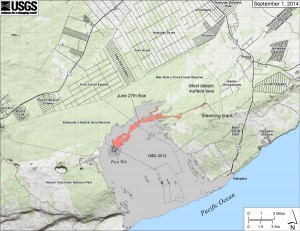 Sorry–I warned you about rambling, but I will just explain one other bit of road geography. There used to be a (crappy) road out of lower Puna in the other direction. It was–you guessed it–buried under a previous lava flow.
You may or may not remember this, but lower Puna is the same area of Hawai'i that bore the brunt of Hurricane Iselle last month. FEMA said there weren't enough homes damaged to qualify for federal assistance, so local nonprofits are still trying to help people with hurricane recovery. Some of the people who are already displaced are having difficulty finding places to live, so where will the people who evacuate stay? Keep in mind, this isn't Waikiki. Much of the island is rural. The housing market is tight, there aren't many hotels in east Hawai'i, and generally the residents of lower Puna are not people with a lot of resources. And while we're at it, what happens when lava flows through even sparsely populated areas? Think of the gas and propane and septic tanks, the potential for forest fires (hopefully east Hawaii continues to be very rainy) and air pollution.
There are people in lower Puna who have made plans, there are people in lower Puna who are in denial, and there are people everywhere in between. And then there are people in west Hawaii (Kona), just on the other side of mountains, who don't even know what's going on. (Of course, up until this week, that was true in Hilo on this side as well.) And I guess that's at the root of my blog purge. I'm not saying, pity the poor people of Puna. The current situation is complicated, with the interaction of development and personal responsibility and government responsibility and culture and a million other things. Just know that the people of Puna are going through a rough time, and maybe send a kind thought their way. And your neighbor down the street, the one with wife you haven't seen in a while, he's going through a rough patch. And the woman in the mini-van who almost rear-ended you because she couldn't get her kids to settle down and she's thinking about her doctor's appointment tomorrow, she's got her own dramas playing out. But they're not on the news either. So maybe let's just take a moment now and then to remember how many stories are playing out around us, and spare a kind thought for us all.
[Photos of the June 27th lava flow and Kalapana and the June 27th lava flow map are from the USGS HVO website]