It's been an interesting week here on the rock. We've had copious (though generally low intensity) thunderstorms, which makes for lousy satellite internet and a dwindling supply of doggie drugs. The rumbles are due to hit again in about an hour. But the storms are only a small piece of the canine and other mammalian drama (more on the latter later). It seems like there was something else going on, too…
Oh yeah—Heir, the final book in my Dead Hollow trilogy is now available! Yahoo!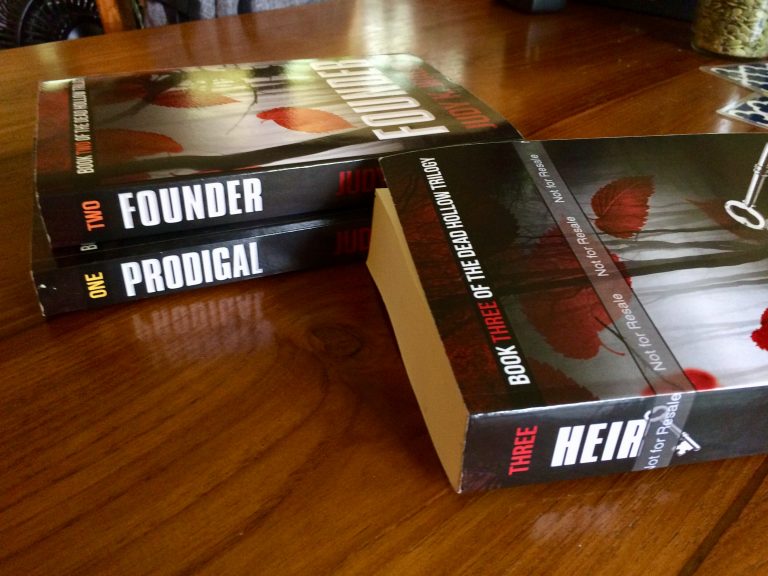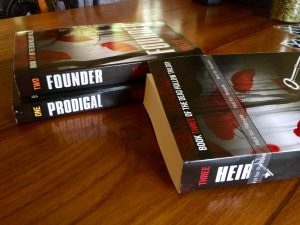 The ebook is everywhere, and the paperback should show up on Amazon any time now, but I'm still waiting for the other POD folks' proof copy to cross the vast Pacific. And let me tell you, this is a chunk of a book. A door-stopper even. About 500 pages in print.
I've probably mentioned before how excited I am to share the concluding installment of these supernatural(ish) crime thrillers with you. I should have done, because I am. Giddy, even. I was flipping through the paperback proof this week to make sure none of the pages were upside down or written in wing-ding symbols and found myself getting sucked into the story all over again. 
From an admin point of view, there are a lot of moving parts any time a new book is released, which means lots of opportunities for pinched fingers and squished toes. Metaphorically speaking. Most of the injuries are to my ego and brain. For example, I've been running some promos after dropping the price on Book One in the series.
***Psst… Prodigal is still 99 cents through the weekend if you haven't picked up a copy yet.***
At least, I thought I'd dropped Prodigal's price. Until I got an email from a sharp-eyed (and nearly much poorer) Kobo reader who saw $45 at checkout. 😱 Would it sound less awful if I said $30 USD? Feeling fried by multiple dashboard malfunctions, I'd accidentally entered a price in Philippine pisos instead of New Zealand dollars—whoops! Then there were the Facebook Ads with scrambled links and audiences. (The stress-sensitive dog might have retreated from his spot beneath my desk during that fiasco.) Plus various other assorted tech glitches.
Still, for the most part, things have gone relatively smoothly. And yet, I haven't been super productive this week. Why is that?
Today is typical, possibly even worse than usual. I've risen from my desk multiple times while typing. Not to yell Outside! at the dog as he poops in the house (we changed their food, and Dingbat Travis, well, he's a Dingbat), or to herd him as he dribbles pee, because, you know, Dingbat. Not to yell at the cat for jumping on counters and mewling incessantly and running crazy-cat laps. Not to escort poor Fritz outside to unload his tank and make sure he makes it back up the steps without falling (he's having some health issues). And not because I can't actually get my legs under my desk for the sprawled, slightly stoned dog lying beneath it.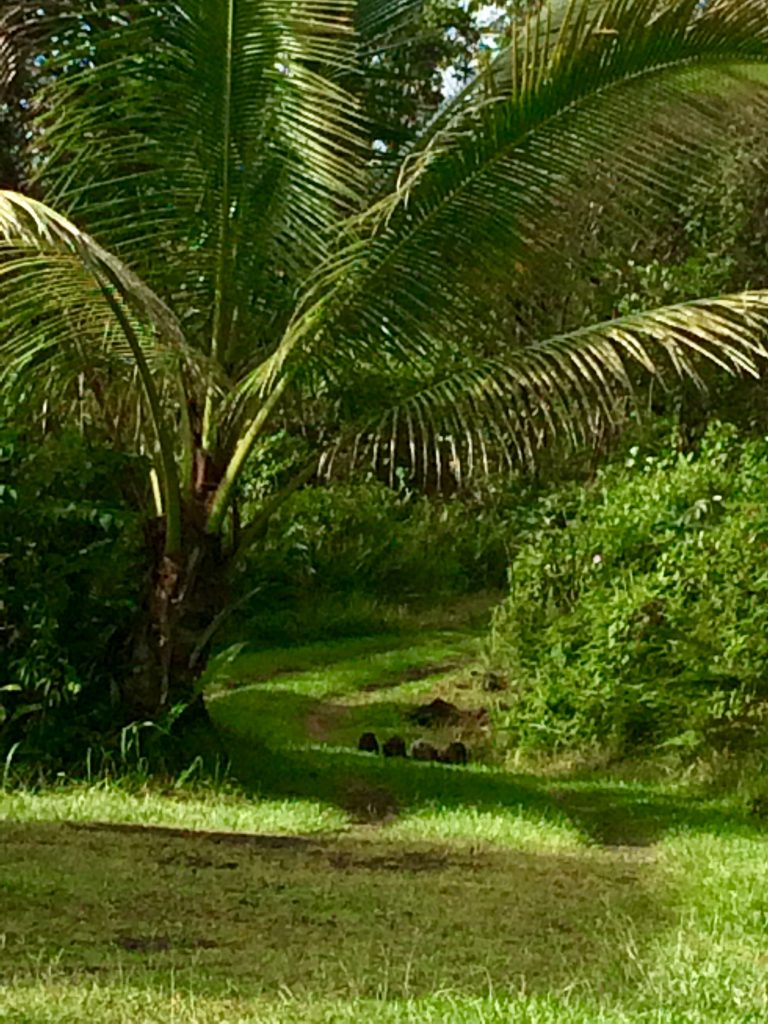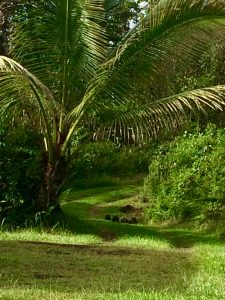 The latest, greatest distraction—feral pigs eating our yard. Currently piglets right outside the window. That would be the window on the far side of the room, which is why I have to get up and go speak to them sternly. (The person who can yell at a spotted pink piglet is worthy of a starring villain role in my next book.)
I've complained shared my rural Hawaii pig experiences before, but this has to be the most persistent harassment ever. They're active day and night at odd intervals and, thanks to their chuffing and our dogs pacing, we're rarely able to catch more than a doze between the hours of four and six a.m. As I look out my window, Ninja is sitting in the middle of the driveway, looking pretty miffed as he surveys the chunked-up road around him. What have you done to my territory?
But the piglets are ridiculously cute. And this time the sows and other random adults are pretty chill. In the past, boars passing through have shown enough attitude (and mass and tusks) to make one's life flash before your eyes.
Here's a video I took on my phone yesterday. (They're hanging out much closer today.) Listen with sound if you can, and in addition to pig snorts and squeals you'll hear rogue neighborhood chickens and bored songbirds. And ignore the dog bed on the fence. (Remember the dog drama? Good times.) The cutest bit is at the end. I really thought the bugger was going to hit my shins. 😂