I've written here before about the challenges of series continuity, by which I mean maintaining consistent details from scene to scene and book to book.
In my Sydney Brennan PI Mysteries, remembering Syd is a redhead and drives a VW Cabrio named Cecil is pretty easy. Beyond that, it can get tricky. Does she wear a watch? Like chunky or creamy peanut butter? Shower daily, and morning or night? Even the "gimmes" I noted can cause me headaches, say when she's wearing a baseball cap or driving a rental car.
One way to try to get around this: use my own preferences!
After all, I often joke that Syd is just me with better hair. (Of course, that's not actually true or they'd be some pretty boring books.)
For example, Sydney likes dogs because I do, and also because she's not a sociopath. She's a Red Sox fan like me. (But really—what else would she be, a Yankees fan? See above, reasoning for dog love.)
So when Sydney walks into Cooper's Bar in The Perils of Panacea, it's not just the beginning of a beautiful friendship—after all, what PI doesn't have a favorite bar?—it's also stepping into a minefield of potential continuity issues. Perhaps that's why No Safe Winterport starts like this:
The sun had set, and I could see a hint of pinky-orange color as I walked around opening the windows at Cooper's Bar. It was a little muggy, and a few degrees warmer than I'd prefer, but mid-way through September it was worth the discomfort to forgo the air conditioning whine. Glenn had poured me a cold Abita beer in an icy glass straight from the freezer, and it sent a pleasant shock through my hand as I picked it up. He asked me the question I knew he'd ask—that he always asked lately—and I took a sip before answering. I was feeling smug, and I hoped a foam mustache would hide it.

Chapter One, No Safe Winterport
Think it's just a one-off? Nope. Sydney definitely has a regular bar beverage.
[Glenn asked], "The usual?"

I nodded, and he left to retrieve my Abita beer. […]

[He] set an icy glass on the bar and slowly poured the amber liquid. I could smell its rich yeastiness, and I imagined I could hear it frothing over the ambient noise.

Chapter 14, Grave Truth
I moved to New Orleans in the late 1990s, a decade or so before the craft beer revolution the United States is enjoying now. But just as with the coffee craze and anything else having to do with food or drink, New Orleans anticipated the rest of the nation—we already had ample quality beers on offer.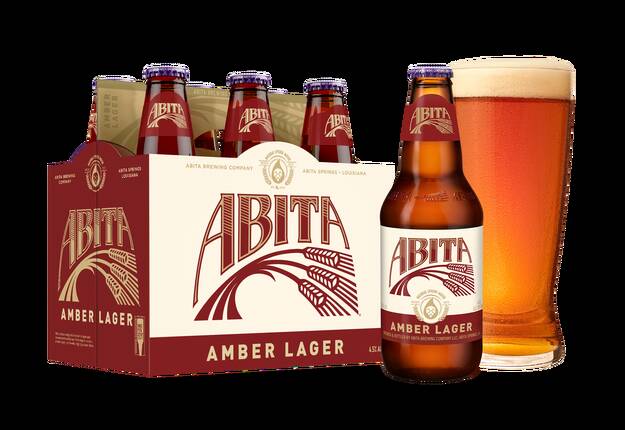 Our local favorite beer was Abita, made with water from Abita Springs (says their excellent marketing department). They had plenty of seasonal and crazy-named flavors like Purple Haze and TurboDog, but the default flavor was Abita Amber.
You could always find the Amber on tap, and if you kept your eyes open, you could find it in bottles most places on the Gulf Coast.
It seemed reasonable to have Abita Amber as Syd's beverage of choice, and it's something the bar owner Glenn would maybe have to make an effort to always have on hand.
It also made me feel just a little bit closer to the city that always holds a special place in my heart. Plus, someday I will have a Syd story set in New Orleans, and what can go wrong when you're in your favorite beer's birthplace? (Technically, the brewery is on the North Shore, but who knows where Syd's adventures will take her?)
If you can't find Abita beer or you're not a beer drinker (my own body seems to have revolted against the yeasty beverage of late), don't miss their Louisiana cane sugar-sweetened root beer. Mmm… now that's good stuff. 😋
---
SHAMELESS MERCHANDISE PLUG: If you haven't noticed, at the bottom of the page under Resources there is a link to my Merch Store. I now have fun stuff featuring my excellent Cooper's Bar logo, including a can cozy. 🍻