I had something in the back of my mind to share this week, and then—surprise, surprise!—I got sucked down the rabbit hole of my own web site. It's amazing how many things I've blocked out of my conscious memory that are recorded here for posterity and my therapist. 😂
That rabbit hole has inspired the return of a regular oldie but a goodie—The Friday Five Post. I was appalled to see I haven't written one of these in over eighteen months. Gee, I wonder why that could be? [sarcasm]
Since I am still rebuilding my blogging muscles and the world is such a dark place, I thought I'd take it easy on all of us and share Five Things that have made me smile of late.
1)  It's probably no surprise that I'm a fan of words, particularly ones that encapsulate the world in unexpected, concise ways. (Collective nouns are The Best.) I stumbled across this post from Merriam-Webster, What to Call That Weird Thing Your Pet Does. He is decidedly not a rabbit, but I swear I have seen Ninja Kitty binkying. He definitely caterwauls. And I'm feeling a tendency toward brumation myself.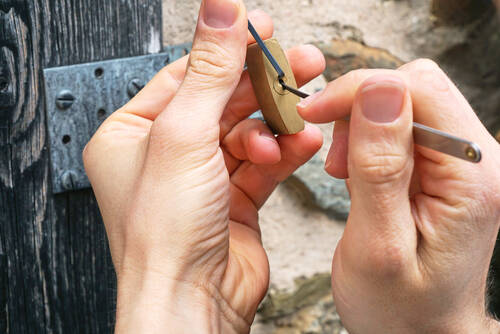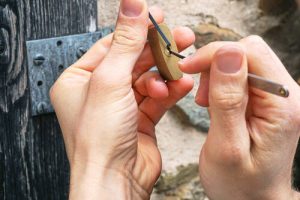 2)  The world hasn't just been dark, it's also been stagnant, and many of us—by which I mean, me—do not do well with same-same-same. One of the things I'm seriously considering to change things up: taking a class on lock picking.
Just thinking about it makes me all kinds of excited. Shouldn't lock picking be a required skill for a mystery writer? (I also really want to try stunt driving, but that's an itch for another time.) If I do pull the trigger (ha, ha) I'll be sure to share. Have a birthday coming and a felonious bent yourself? Here's an article I'd tucked away from Business Insider, The 5 best lock pick sets of 2021 for emergencies.
3)  It turns out I am a puzzle person. Not surprising, really, since my Mom is an addict and I hear puzzle-solving is a heritable trait. (Just kidding—don't be pulling out your ancestry kits.)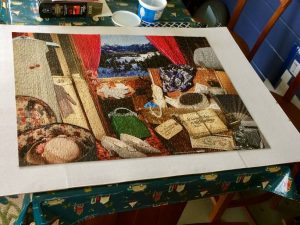 I finally opened the mystery puzzle she'd sent me for Christmas (the Orient Express, of course) and found it's a great brain occupier when I need to step away from the Sydney #8 manuscript for a bit.
I roped in the Hubs for the final stretch (Fred helped from his spot under the table) and we finished this week, just before the cardboard had completely warped into the shape of a skate park half-pipe. I'm approaching the final stretch (rough draft), so I'll have to set up another puzzle this weekend. Maybe the next one will actually fit on the table.
4)  Last week, inspired by a pile of avocados and a recipe in Laura Wright's The First Mess Cookbook, I channeled my inner Millennial and made The Best Avocado Toast Ever. (No offense, Millennials—we Gen Xers should be so lucky as to be associated with any food other than Pixy Stix.) You cannot go wrong with Old Bay and nutritional yeast!
Unfortunately we ate it before I could snap a pic, and I haven't made it since. As yummy as it was, I decided my handling our French cleaver and a wobbly round fruit on a frantic weekday morning was not the most sensible combination, especially since I can't seem to master dictation.
5)  Finally, the biggest best-est happy news of the week… we still have an avocado buddy!
(If that reference is lost on you, check out my post Animals with no Restraint.)
Can I just say, dogs are amazing?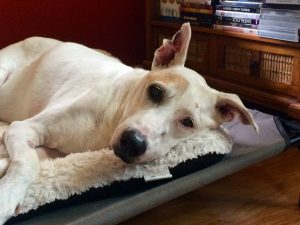 Fred has been having serious health issues and we feared our time together was at an end, but the ridgeback mix has more lives than the proverbial cat.
Surgery this week removed a mass of nasty tumors dangling down his throat—for the second time—and now he's back to begging treats (no chews yet—did I mention throat surgery), using the hard-stare to solicit face rubs, and going dancy-pants at the prospect of walks.
Just look at that face… this week definitely goes in the Win Column!
I hope, despite all the crazy, you have something to celebrate, too. If not, I recommend a cute critter video break and some dark chocolate.