"I'm a taxpayer. I paid for it, so I'm using the whole road."
Who hasn't made (or cringed as the driver made) similar remarks after drifting across the highway's center line or onto the shoulder, or going the wrong way down a one-way street. A couple of weeks ago, a woman in a coffee shop parking lot heading straight for me veered at the last moment, leaned out the driver's window and yelled, "Watch where you're going!" Apparently she'd had too much caffeine and didn't notice the painted arrows going both ways.
I remember traveling with our band director and a few other students in high school to see a major marching band competition in Morgantown, WV—the big city. Someone took issue with us going the wrong way, so she lifted her feet from the pedals and responded, "Hey! I'm from West Virginia—see my bare feet!" (For the record, she was, in fact, wearing sandals at the time.)
But for the most part, growing up in a rural area, using the whole road had a different meaning. One more like this…
Rows of pine trees surrounded us on either side. The road might have been gravel at one time, but now it was mostly dust, and we left a cloud behind us. I tried not to let that bother me. JD used the whole road, meandering from side to side to avoid the worst of the deep gullies and ruts. The gearshift vibrated and bounced so much I wasn't sure how he'd ever find a different gear.

Chapter 22, The Perils of Panacea
There are a lot of former logging roads in my old mountain stomping grounds, some accessible by pickup, while others are only accessible with four wheelers or other off-road forms of transportation (say, hoof and boot). Although some of the streets in New Orleans had impressive sinkholes—I mean potholes—and still do, when I left the hills of West Virginia behind I thought I'd left the laissez-faire approach to infrastructure behind as well (along with most of my down-home accent).
That is, until I moved to Hawaii.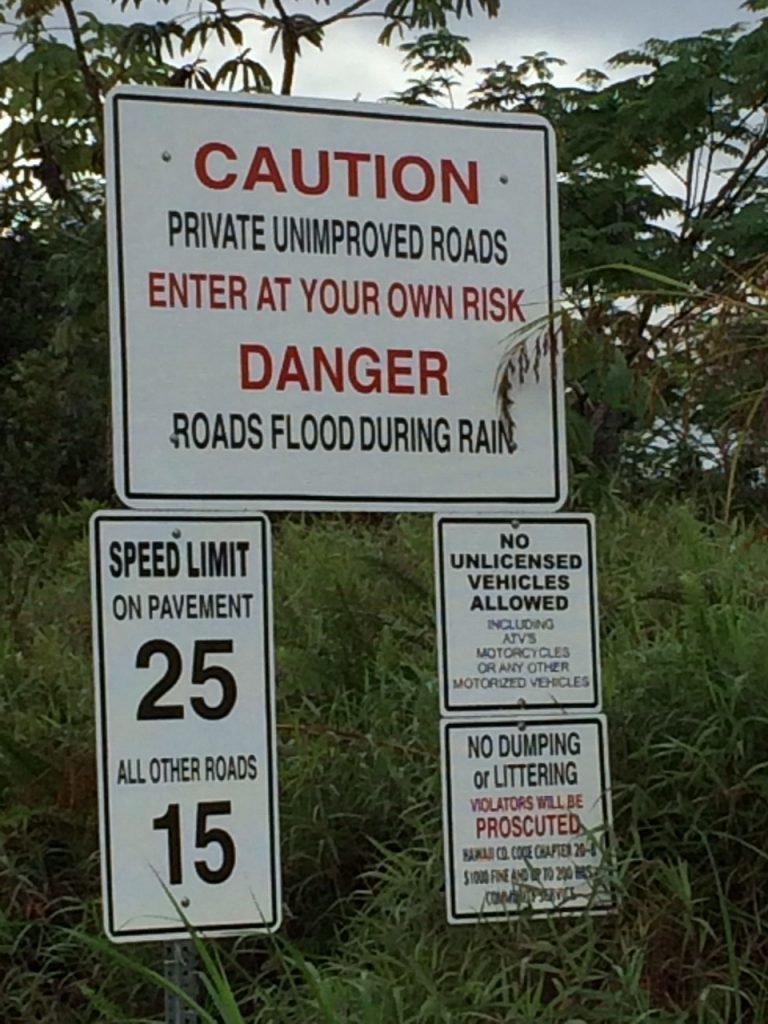 With the exception of the main highways and a couple of important access roads, most of the roads in the rural Puna District of East Hawaii are private roads, maintained (using the term loosely) through private road fees. Some are paved (also using the term loosely), but many, including our street, are not. (If I ever want to dabble in True Crime, I'll start attending our association meetings; apparently some of the attendees threaten homicide on a regular basis.)
We learned our lesson years ago when my house-hunting husband and I struggled to maneuver our beater car (a Volvo tank) through a U-turn in the cane grass because a subdivision road was impassable. Even some of the county-maintained access roads employ creative engineering techniques, with mini-roller coaster hills so steep and close together your car bottoms out on the descent. Sitting in the backseat the first time our realtor drove us down one, I went airborne enough to hit my head. (For those unfamiliar with my dimensions, there's generally a pretty good distance between my head and any sort of ceiling meant to accommodate people of average height.)
In other words, change the tree species, and JD could be driving down our street. (Some of the illegal vehicles I've seen while dog walking could definitely be JD's truck.) Or driving down your street in rural Georgia, or your son's in rural Michigan.
After all, there are few things so universal as lousy rural roads.
[Those are actual Puna, Hawaii, road signs by Paul Normann.]