Today's post is another installment of Magpie Moments, snippets I snatched from real life and incorporated into my Sydney Brennan Mysteries. I'm continuing with one from my most recent novel, The Perils of Panacea.
I was reasonably sure the first boat I'd passed after jumping down was JD's. I have a soft spot for pretty boats with lots of exotic hardwoods and long bowsprits. In other words, ones that are a pain in the ass to maintain. His was not a pretty boat, but it did look like it would still be afloat tomorrow, which was more than I could say for many of the boats I'd seen that day. It was almost all fiberglass, with a token piece of wood trim here and there. The hull was painted dark green, and she was short and chunky. The length looked right, but the name was the kicker: Benny Boy. Maybe he'd changed it from Island Dreamin' just because he was sentimental, or maybe he'd changed it because he was sentimental and lying low.

Chapter 10, The Perils of Panacea
I grew up in the landlocked, mountain-ridden state of West Virginia. The first time I saw the ocean was during a high school band trip to Orlando (by way of Cocoa Beach, where I got one of the worst sunburns of my life, made even more pleasant the next day by marching miles in a polyester uniform carrying an alto sax). This is my long-winded way of saying the closest I got to a boat growing up was my cousins' couch, our stand-in ship when we played Piranhas!
All that changed when I met my husband in New Orleans.
If sailing isn't the first (or even tenth) thing that pops into your mind when you think of the Big Easy, you probably haven't seen Lake Pontchartrain. About 40 miles wide by 24 miles north-south and 12-14 feet deep, Lake Pontchartrain is a fantastic place for sailing. If you get tired of day sailing to the North Shore, the estuary connects to the Mississippi River and ultimately to the Gulf of Mexico.
My husband was fortunate to grow up in a sailing family. The Gulf Coast was their playground, and I love hearing their stories of races that shouldn't have been and return trips that almost weren't. Their sailing adventures may have been less ambitious by the time I came into the picture, but I treasure the days and nights I spent with them aboard Summerly.
To quote Katharine Hepburn in The Philadelphia Story, "My, she was yar."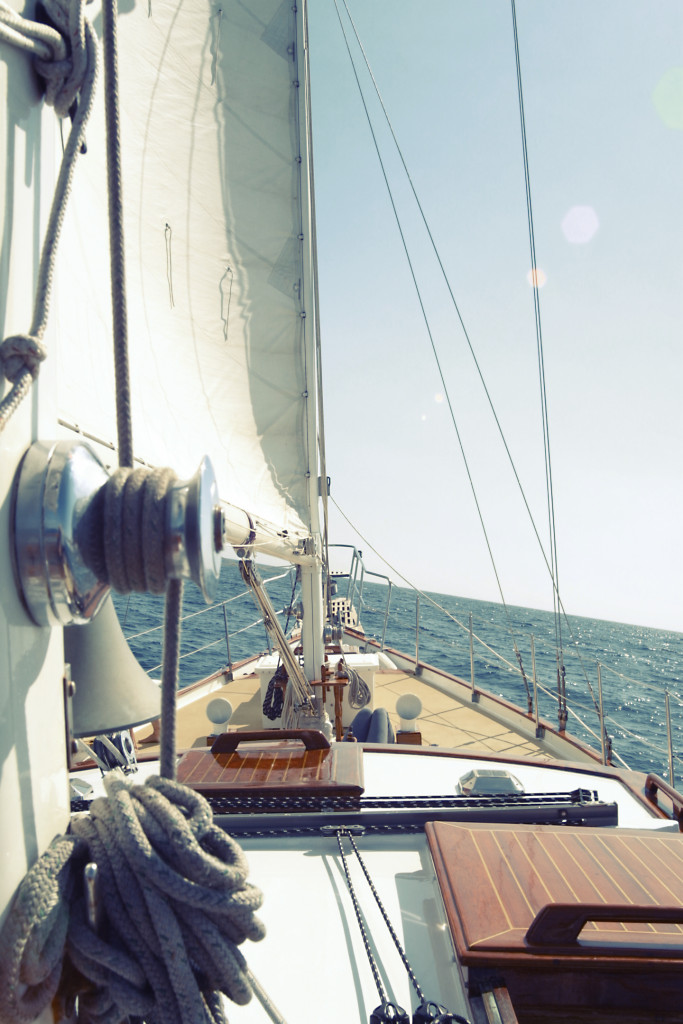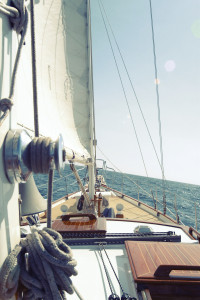 I may not have grown up around sailing, but it turns out I have very particular (and expensive) tastes in sailboats (which Sydney inherited).
There was a newsstand around the corner from our house, so my husband and I would pick up sailing magazines and daydream through the For Sale ads. I'd see one with long, low-slung lines and say, "I like that one," and Paul would say, "Of course you do." Invariably it would be a Hans Christian, or on an off day maybe a Cheoy Lee.
We eventually bought a small sailboat (a twenty-two-footer that the previous owner had sailed to the Dry Tortugas–brave man!) so he could teach me how to sail. I don't know if I learned much, but I did have fun. Later we came very close to buying a more substantial sailboat. It was gorgeous—a thirty-something-foot Fuji with lots of teak and a long bowsprit. Sound familiar?
Our offer wasn't accepted, which, in retrospect, was all for the best. When we moved to Tallahassee, the little boat went with us on her trailer (speaking of adventures—now I know why they have those protective barriers at the ends of gas pumps). We never could find a reasonably priced slip close enough that we'd actually use it, so we sold her to someone who–we hoped–would give her a more exciting home in her golden years.
You don't see many sailboats on the Big Island, especially windward side—the water around the island tends to be pretty scary—but when we're on Oahu, we always find ourselves drawn to the masts in the Ala Wai harbor, and the pretty boats they sprout from. It's definitely an improvement over the marinas poor Sydney has to visit!
[Sailboats in Netherlands by Skitter Photo and View from sailing boat by Leeroy, both from stocksnap.io]