Another New Year, another binge-watching opportunity to discover. 😉
There is undoubtedly an abundance of crap on television, but "network" innovation in recent years (is Netflix a network? is Amazon?) has also given us some excellent shows. With limited viewing hours in a day, I often don't find those shows until they've already come and gone. I'm glad to report this one [knocking on desk] is still around.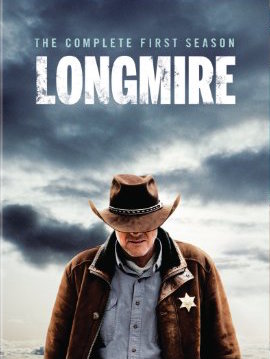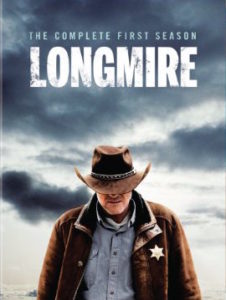 Longmire is the story of a Wyoming sheriff who's struggling with his grief over the loss of his wife. As the one-year anniversary of her death nears, Walt Longmire (who doesn't love a guy named Walt?) is still unmoored from his job, his community, and his daughter. But that's all about to change. The show begins with his deputy Vic, a plain-spoken (one might say foul-mouthed) Philadelphia transplant, calling Walt out to a snow-covered mountain to investigate a dead sheep. Dark birds circle farther up-mountain, and Walt and Vic soon discover there's more to the crime scene than meets the eye.
Walt: You know what they call a flock of ravens?

Vic: Um, no.

Walt: An unkindness… an unkindness of ravens.

Vic: What the hell is wrong with flock?

Walt: Unkindness is just a little more apropos.
I'm sharing that snippet of dialogue in part because it's one of my favorite scenes ever—the actors' delivery is spot-on and instantly establishes the characters' chemistry—and in part because at least twice a month (usually dog-walking) my husband and I run through adjectives like a four-legged thesaurus, trying to recall the cool collective noun for ravens. Disappointment… Sadness… Despair…
Longmire has the holy trinity of binge-watching: rich scripts, gorgeous scenery (shot in New Mexico; apparently Wyoming's weather was a little too Wyoming for filming), and a fantastic cast. Even minor characters are so solidly written and acted that I feel like their lives continue offscreen, after the cameras pan away. One standout is Gary Farmer's portrayal of a Cheyenne contrary warrior in the Season 2 episode, "Tell It Slant." I get chills just thinking about the episode. [Brief Digression for Six Degrees of Longmire: You might recognize Farmer from Powwow Highway, which co-starred A Martinez, who plays the morally complicated businessman Jacob Nighthorse on Longmire.] Among other highlights, Peter Weller's former Absaroka County Sheriff Lucian Connally is irresistible. I love Lou Diamond Philips (Henry Standing Bear, or "Ladies Wear" to Lucian), and few DVD extras have tickled me more than the interviews with Robert Taylor. Hearing "Walt" speak with an Aussie accent always makes me smile.
Many recent dramas seem to struggle to balance episode arcs, which resolve a single story, and long-term series arcs, which resolve the Big Question(s) rooted in the characters' backstories. Either individual episodes suffer because Big Question Clues are shoehorned into the script, or individual episodes are okay, but never give viewers the satisfaction of resolving the Big Questions. (See Seasons 5-8 of Castle for a show that suffers from both.) Longmire mostly does a good job of handling both. Each episode has its own self-contained story, while steadily advancing Walt's Big Story. (I won't even say what the Big Story is because I hate spoilers.) There is a caveat, though, thus the mostly modifier. I have some concerns after the Season 3 Finale, so hopefully Season 4 doesn't make me tear my hair out.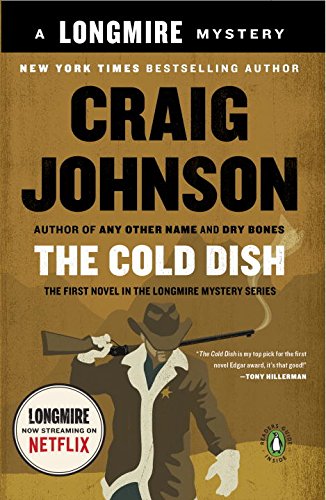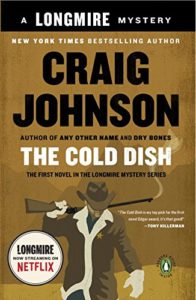 The Longmire TV show (originally created by A & E, later picked up by Netflix) is based on the Walt Longmire books by Craig Johnson. Reading a series when you've enjoyed the film adaptation—or vice versa—is always a dicey entertainment proposition. It's hard to let go of expectations. Still, over the holiday, my husband and I read the first in the series, The Cold Dish. I'm happy to say we were not disappointed.
Johnson's lyrical descriptions of Wyoming are every bit as vivid as what appears onscreen in the show, but there are differences between the two Longmire worlds. TV Walt is a man of few and well-chosen words. The books are told in first person, so we "hear more" from Walt, whether he actually speaks more dialogue or not. TV Walt occasionally drops a one-liner that makes me laugh out loud, but being privy to Book Walt's thoughts gives us greater exposure to his sense of humor.
Character biographies are significantly different, too. It's been a year since TV Walt's wife died in the first episode, but four years since Book Walt's wife died in the first book. Book Walt is a Vietnam vet, as is Book Henry Standing Bear. (That would make them both older than they appear in the TV show.) TV Walt's daughter Cady moved back to her hometown to be near her dad, but Book Cady lives in Philadelphia. Vic is pretty similar across media, but TV Deputy Ferguson (decades younger than Book Ferg and unmarried) seems to have little in common with his book namesake except a love of flyfishing. I think I'd need to read at least one more book to get a handle on the derivation of TV Deputy Branch Connally, but you get the idea.
Somehow, these differences work for me. It's like the two Longmires exist in parallel universes, and both feel equally real and true. (I have a similar experience watching and reading Bosch.) And double the universes means double the reading and viewing pleasure. Who doesn't like that?
If you like Longmire, you might also enjoy my Sydney Brennan Mysteries (featuring the exploits of a Tallahassee private investigator) or my Dead Hollow trilogy (an investigation into present-day crimes with links to the past in a fictional West Virginia county). Both series are anchored with a strong sense of character and place, because that's what I like to read, too.