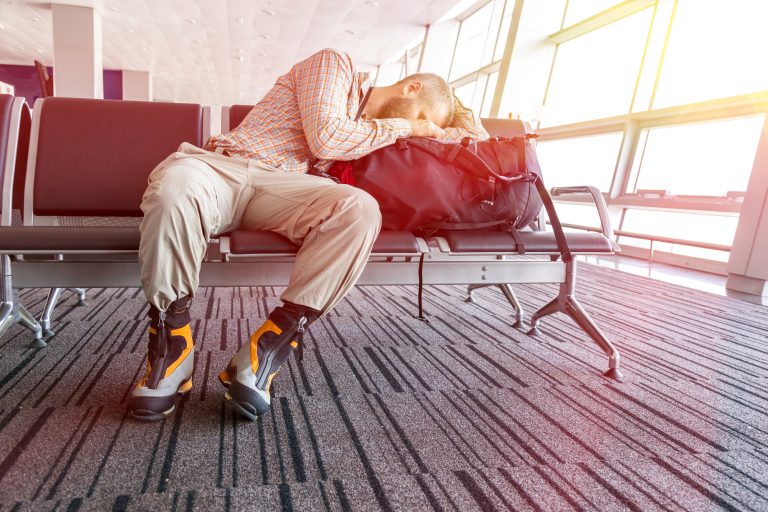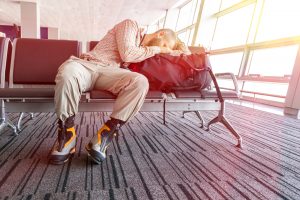 You ever wonder if travel is worth it? We must forget the trauma within a few days, or no one would ever leave the house.
I'm still catching up and a little jet-lagged, but we made it back from New Orleans! Honestly, the return trip was okay, but getting to the mainland was fairly horrendous. A red-eye is never pleasant, but it's even worse when a certain airline (no names, but it's a synonym for together) squeezes you into teeny tiny seats with no legroom even for the vertically challenged folks like me.
Then my husband and I had separate flights from LAX to Denver (don't ask), but were supposed to meet up there for our final leg. Instead we both had broken planes and ended up stranded in different cities for most of that day. I finally arrived in New Orleans ahead of him and found that the city may stay up all night, but its airport does not. I sat alone in the terminal waiting for the last flight from Houston, the cleaning crew zamboni-vacuuming around me as midnight—and Monday—approached. Did I mention we'd left on Saturday? 🤪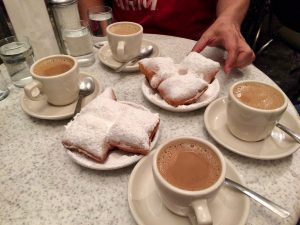 If the good news is that we arrived intact, the bad news is that I got no writing done on Sydney #7. Not because I was busy bar-hopping on Bourbon Street, but because I'm an occasional tech doofus and this was one of those occasions. Nasty thunderstorms hit for days before we left Big Island, and my cloud back-ups didn't sync after all. The result: I was locked out of any account that required a password the entire time I was on the mainland.
In addition to not writing, I also didn't experience an epiphany for the hook of my Sydney #8, a novella to be set in New Orleans. I did, however, jot down some notes and get a good sense of the dynamics between Sydney and her travel companion. Wouldn't you like to know who that is… And I got a good re-grounding in the city that was once my home. Not to mention the requisite beignets and cafe au lait at Cafe du Monde.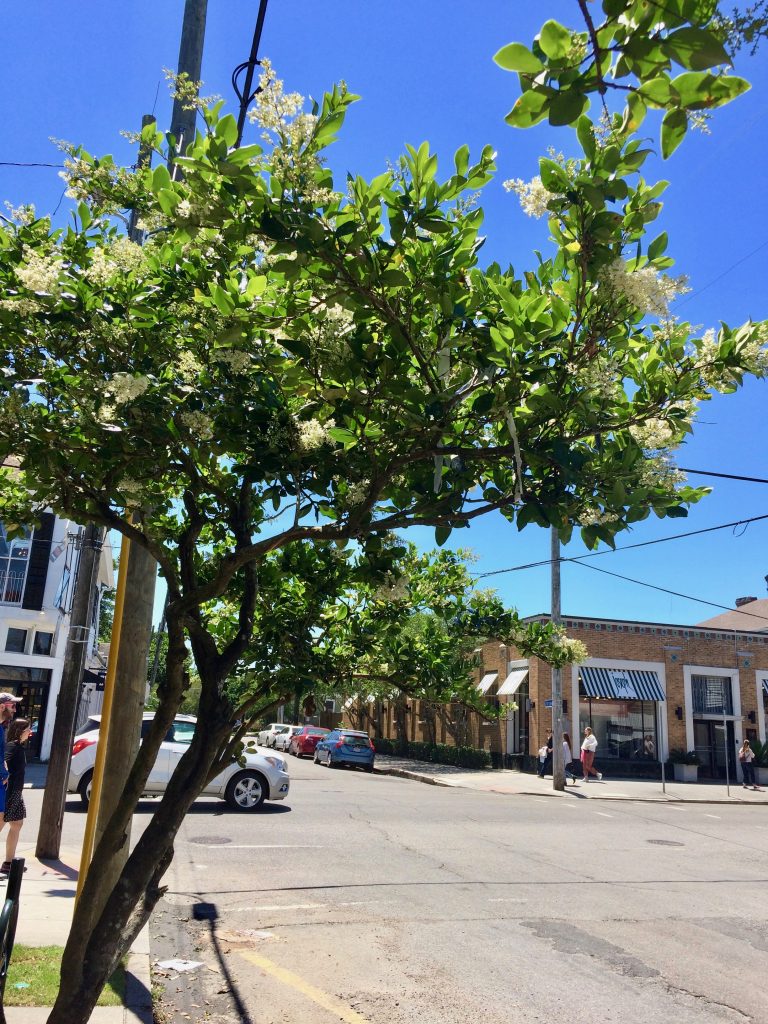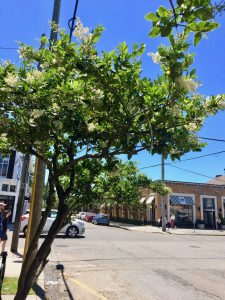 The New Orleans tourist bureau could not have ordered better weather while we were there, sunny and warm—but not hot—and much less humid than East Hawaii, with fragrant jasmine and sweet olive trees in bloom throughout the city. (This one is from our old neighborhood.) My husband was attending a conference, so the first part of our visit we were based in the Central Business District, an area that's changed a lot since I spent any significant time there. High-rise lofts and restaurants occupy spaces that were once parking lots. Mmm… New Orleans restaurants. The Faubourg Marigny area just beyond the French Quarter had changed just as much, patches of it now thick with clubs. Mmm… New Orleans music.
As much as it's changed, there are still things to appreciate that have been there forever (relatively speaking; let's say at least a hundred years). One afternoon we stumbled upon a free outdoor concert in Lafayette Square, the fantastically funkadelic jazz trumpeter Kermit Ruffins and the Barbecue Swingers. The crew was still setting up for the opening act, so we wandered into the nearby Fifth Circuit Court of Appeals.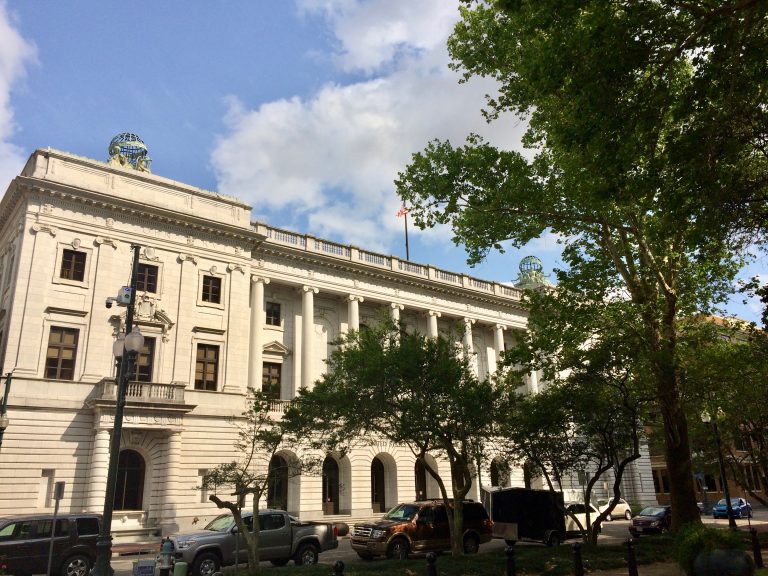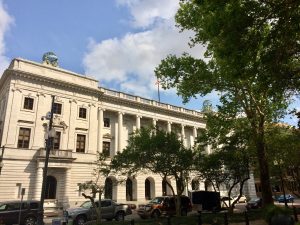 One step below the Supreme Court, the Fifth Circuit hears appeals from Louisiana, Mississippi, and Texas. Originally a post office, it's an amazing building constructed with materials from the region—including marble from Tennessee and Georgia and pine from Louisiana and Mississippi. The four impressive copper and bronze statues on the corners each weigh a ton and were executed by the same brothers who did the statue of President Lincoln at the Lincoln Memorial.
It was near closing time, but the guards were welcoming and chatty, as was one of the justices, robeless and incognito on his way out the door. The highlight was the empty en banc courtroom upstairs, with room for all of the justices (rather than just a panel) to sit and hear major cases. With its rich wood and leather and velvet curtains, the hushed space evoked all the gravitas and reverence of the churches we'd passed earlier on our stroll. (New Orleans is a church-rich city, seemingly with houses of worship in all denominations in direct proportion to the number of bars.)
The latter part of our visit was spent with family just outside of New Orleans proper. From there we were able to revisit our old uptown stomping grounds, favorite mid-city spots, the lakefront, and even friends on the north shore. Remember, New Orleans is a bowl of a city bounded by water, with Lake Pontchartrain and the Mississippi River always threatening to wet your toes. Speaking of high water tables, the crows at a nearby above ground cemetery kept messing with me, posing as if for my next book cover, then flying away at the last moment.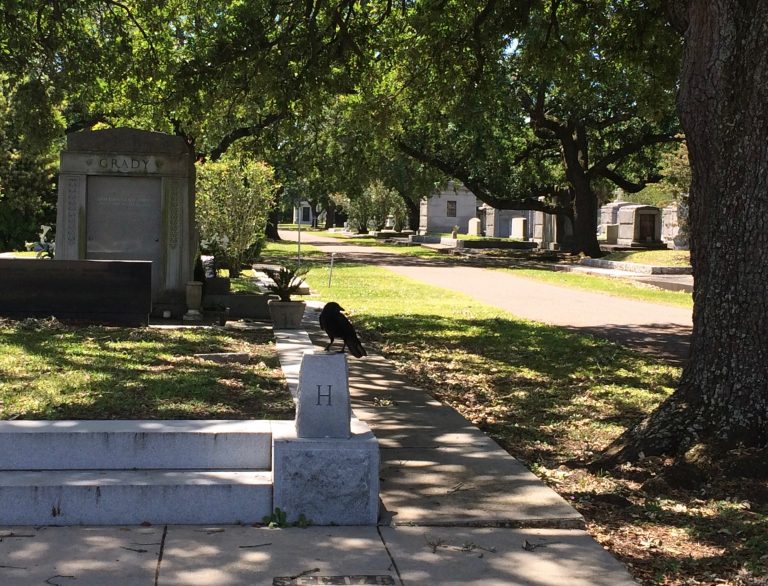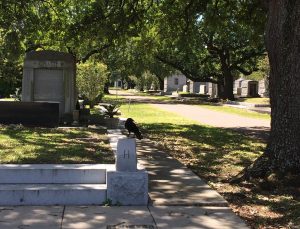 Everywhere we went, I could imagine scenes with Sydney, once laughing out loud at an idea that struck my fancy. (That's always a little awkward, explaining to companions that you're laughing at stories in your head; fortunately my husband is used to it.)
Of course, New Orleans in April of 2019 is very different from Sydney's New Orleans. Syd Book 8 will begin almost immediately in time after Book 7, but without access to my notes I wasn't sure of the year. Imagine my relief when I confirmed on my return that it's 2005, a few months before Katrina (late August, 2005). I was not looking forward to squeezing the scale of the storm's impact into a novella, or to the research such a project would entail. Living in Tallahassee at the time and having family who evacuated, I probably have a better sense of the aftermath than the average person outside the Gulf Coast. But recovery is a process, and nailing down the state of a particular place at a particular time—that's enough to give me hives. Which is why I literally breathed another deep sigh of relief while typing this.
Now back to the Florida Panhandle to finish up #7. Well, maybe another cup of coffee first. Our dog Fred gets upset when I face-plant on the keyboard.