I know, this is supposed to be an off week for the Blog, but I thought I'd share something anyway, in case you need a break from political crazy with real world, Hawaii Island crazy. No, we haven't had another nuke scare, but we are circling back to a popular theme…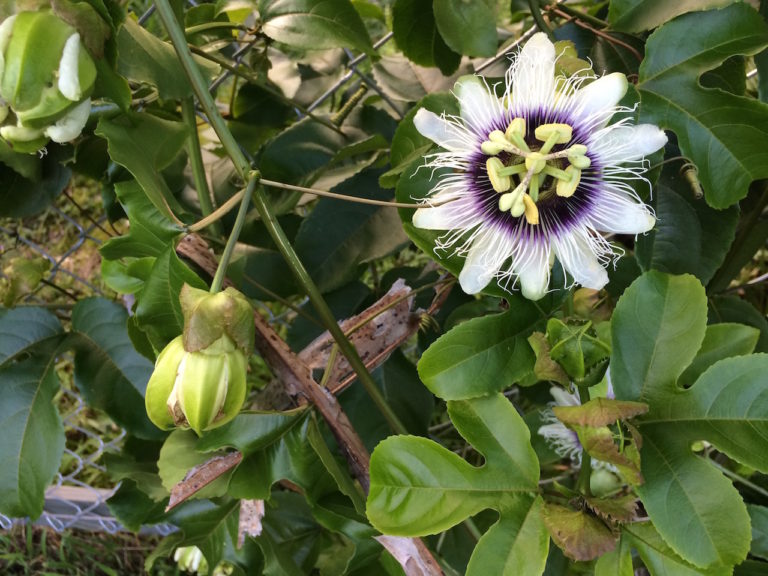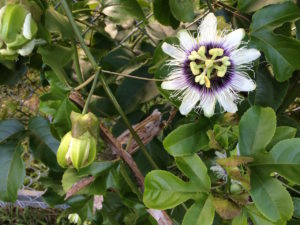 Yesterday was the first sunny day we've had in weeks, if not months. I know, I see a lot of you people who suffer through snowy winters throwing objects at the screen, but maybe you didn't hear about the poor people on Kauai who got just under fifty inches of rain in a single day. Nothing like that on Hawaii Island, but we've had our share of rain and socked-in, solid overcast. We live completely off the grid (only solar power), so I am very aware of how many photons hit our roof, and we've been way below normal. 😛
Anyway, exceptionally beautiful day yesterday (the lilikoi are starting to bloom again) and then mid-morning, we had some excitement—a nice little 5.0 earthquake that made Fritz bark and me take a leisurely stroll outside for a minute or two. At least I was wearing clothes, and it made me leave my desk, for perhaps the only time all day. And it's Hawaii, so we're no strangers to earthquakes. Yeah, about that…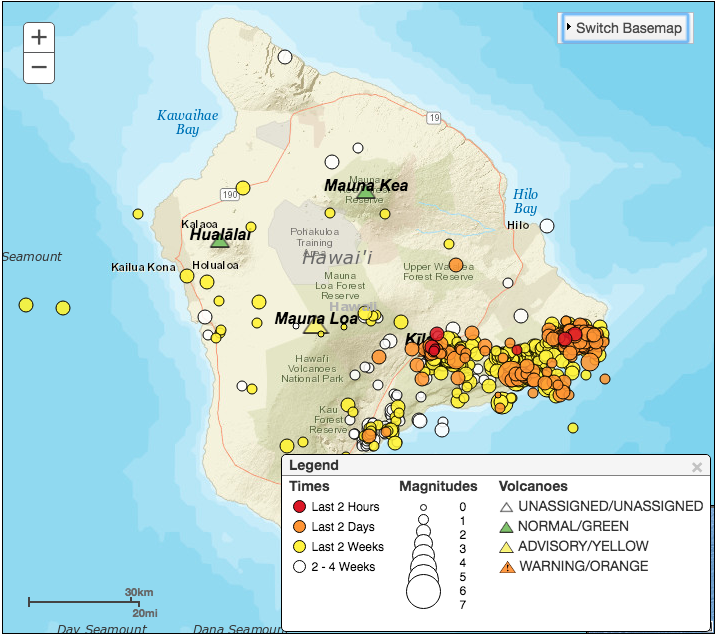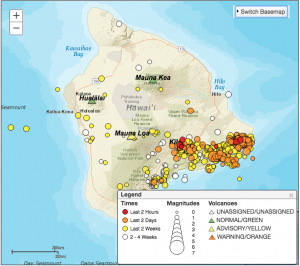 Lately—like this week lately—we've been having swarms of small earthquakes. Believe it or not, I think "swarm" is an official term. In our case, it translates to hundreds. It's similar to the activity that preceded the 1955 Kilauea eruption that caused the evacuation of Kalapana and Kapoho and buried nearly 4000 acres under lava in three months. (Another surface flow buried Kalapana in 1990.) To be clear, Kilauea has been continuously erupting since 1983, but surface flows break out in new areas from time to time. Long-time blog followers may recall that in late June of 2014, we began the Lava Year in lower Puna District. Well, it wasn't quite a year, but Kilauea lava breakouts did threaten several residential areas for long enough to gestate a human. (You can find my blog posts about it in the Hawaii Life category, or just search for lava.)
Fast forward to this week's swarming earthquakes. A small crack even opened in a subdivision road—no heat or fumes; it was probably just a result of all the earthquakes. But Civil Defense issued an Alert advising Puna residents to be ready for a possible eruption in the east rift zone. My husband was pretty blasé, but I tend to be a little stitious. As he was leaving work yesterday, he noticed a bunch of emergency vehicles heading south in a hurry. A few minutes later, there was a Civil Defense alert. Lava had suddenly appeared in the subdivision where the road had split, Leilani Estates. If you haven't seen this drone footage, it is spectacular.
*Drone video captures lava inching its way through Puna*
There are reports that lava spewed from the fissure as high as 125 feet. That first fissure is no longer erupting, but a second opened up nearby, and possibly a third, and there's every reason to expect more. Leilani Estates and Lanipuna Gardens subdivision are under a mandatory evacuation order. That means at least 1400 people (the last figure I saw for Leilani residents) had to leave their homes fast. Puna Geothermal plant was shut down, and we were warned of potential rolling blackouts in Hilo (the largest city on the island), but I think they've managed to dodge those so far. (Yet another time I'm glad we're off the grid.)
In addition to the lava itself, erupting on three streets according to the latest update, there are dangerous levels of sulfur dioxide gas in the area, and some roads have been closed, too. I'm a little surprised we haven't smelled anything yet, considering the amount of smoke and ash we had with the 2014-2015 breakouts, but it's early days. 😛 We joked that eruption, which stopped less than 200 yards from Pahoa Village Road (and nibbled at the new transfer station) was a slow-motion disaster. For the poor residents of Leilani and Lanipuna and the rest of the east rift area, this breakout is more analogous to California's wildfires. If they were started by lava.
The past eighteen hours or so have been a little surreal. We had more sirens than usual last night, but this morning fewer helicopters than usual initially, I'm assuming because of flight restrictions. The numbers are picking up now, and they sound more ominous than annoying. (Damn writer's imagination! Or maybe it was watching Stranger Things last night.) I think we're about eight miles from the break-out, so we're in no imminent danger here, and we're not on that east rift area.
Having lived in Florida and New Orleans, I'm usually good about staying stocked up on food and supplies. However, recent months of heavy thunderstorm activity (and large psychotic dogs) have thrown off my routines. That's what we'll be working on this afternoon and weekend, being sure we're as ready as we can be for whatever—earthquake, lava, hurricane, alien invasion…
So here's my little PSA: why don't you do the same around your own home this weekend? We're all subject to uncertainty, wherever we live, and we cannot assume someone will come to our aid. And when you're able to take care of yourself, more help can go to the people who are most vulnerable.
Okay, that's me stepping down from the soapbox and off to get booze—I mean, beans. Cans of beans. 😉  Aloha!