Well, I'm back in rainy Hawaii this week. My jet-lagged brain is still struggling to make complete sentences, but my sloughing skin has never been happier. 😉 I'll be sharing more about my visit to West Virginia soon, along with whatever pictures I can filch from my husband and mom (my position in the back seat, along with my tendency to forget my phone/camera, left me photo-less). For now, I'll just say it was cold (high temperatures in the teens) and dry. Did I mention the d-r-y?
Traveling anywhere from the islands is always… let's just say involved. But the return to Hawaii Island is the diciest part, wondering, will we actually arrive in Hilo on the scheduled date (versus getting stuck partway, on the Mainland or Oahu)? And what will we find when we get home? This trip, we were pretty lucky on both fronts. The flights were tiring and a little bumpy, but despite some close calls we arrived as scheduled with no mishaps. We were forced to reenact the old Hertz ad to catch our connection, but we've come to expect that at LAX. (Let me just say, my shoulder bags were way heavier than whatever OJ carried in his briefcase.)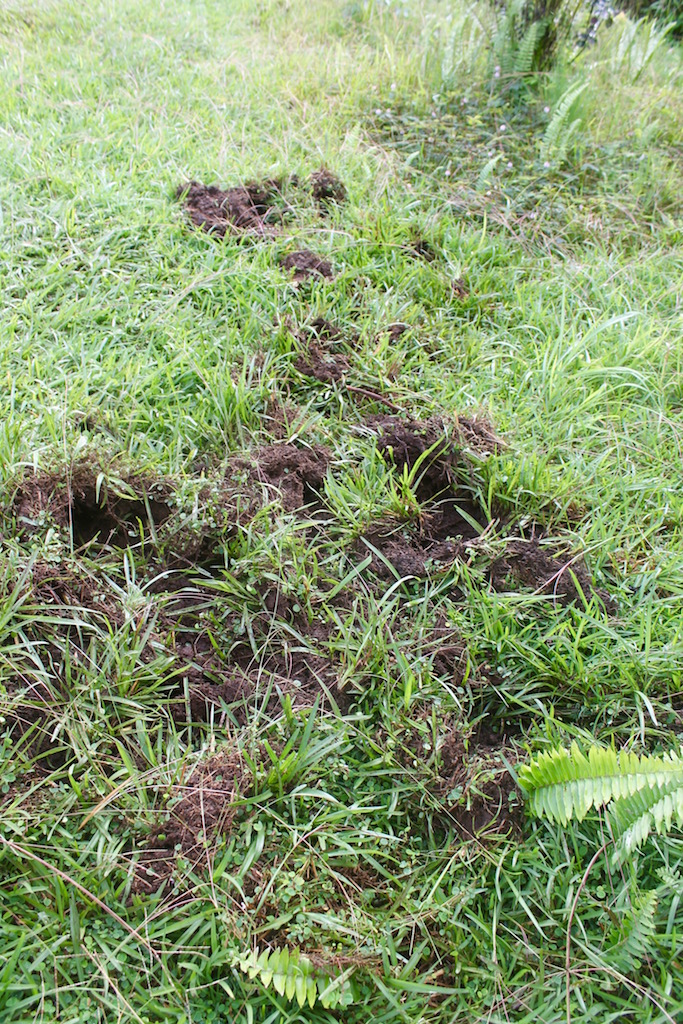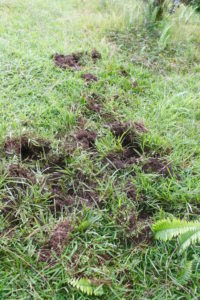 Our late-night arrival at home was also surprisingly free of drama. Squatters—of the rodent variety—often move in as soon as our car clears the driveway (remember the Vacation Interlopers?), but we seem to have escaped them this time. I have been walking through a lot of new spider webs, but that happens every day, even when we're in residence. And the feral pigs did a number on our driveway, rooting for whatever it is they find in the half inch of soil that lies atop the lava rock, so much so that the bottom of our compact car dragged on the big, grassy chunks. Again, that's something we wake up to most mornings, but the scale of destruction was pretty impressive.
Yesterday, I found out just how cozy the critters had gotten in our absence. I was working at my desk while the dogs enjoyed rainy day naps. That is, until Fred approached, turning his full attention on me like a bad actor playing a psychic on a TV show. Fred isn't mute, but he very rarely speaks, so it's up to the receiving human to interpret the meaning of his stares. I recognized this one as, I have an interest in something outside, and looked past the curtain to see an object in the driveway. A big leaf? No. A cat? No. A piglet. A piglet sunning itself during a pause in the rain.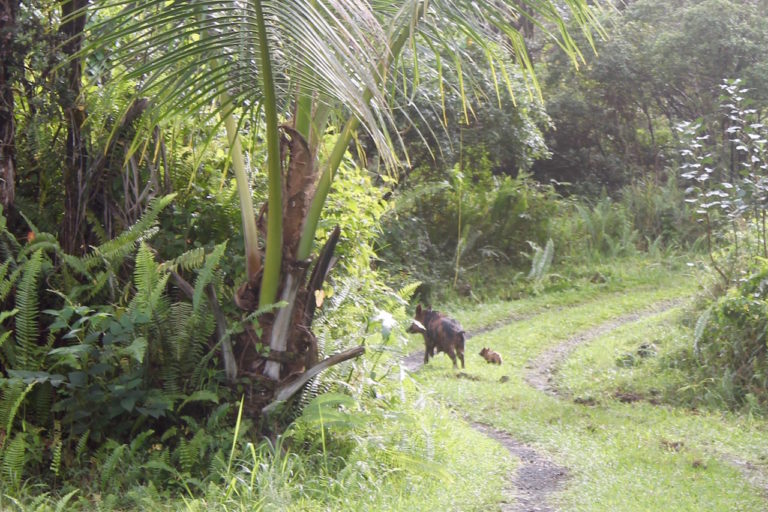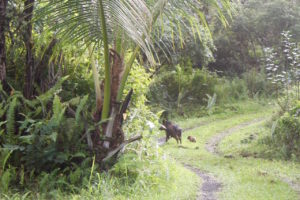 I grabbed my camera (wrong lens, of course) and sneaked out the back door to avoid exciting the other dogs. The carport blocked my view, but I was raising my camera, almost within range, when something barked at me. I looked up to see a sow about twenty feet away. She wasn't huge, but she was big enough that I was glad she ran for her piglets (turns out there was more than one) in the driveway instead of charging me. I've heard chuffing and snorting and all kinds of feral piggy noises before, but I'd never heard a bark like hers before. I barely caught a glimpse of their backsides before they darted off into brush. Turning back to the house, I found that the sow had been rooting in our yard right next to the window by my desk. Sneaky bugger. (And inattentive writer.)
One other little item this week (if 11,000+ words can be little)… remember that Sydney Brennan short story I'd started posting in rough draft several months ago? And never finished? Me either. Just kidding! In Club Revelations, Sydney drags her friend Noel Thomas along on what Syd promises will be a straightforward job, but the two women soon get more than they bargained for in a sketchy Florida club. The story takes place a few months after the novel, Braving the Boneyard, and gives you a hint of what Sydney will be investigating in Book Six. I'll be releasing Club Revelations sometime next year, but as a little holiday bonus, I'm sharing the entire, edited story with you here. (Don't worry if you haven't read up through Braving the Boneyard yet; the story doesn't have any spoilers and stands alone.)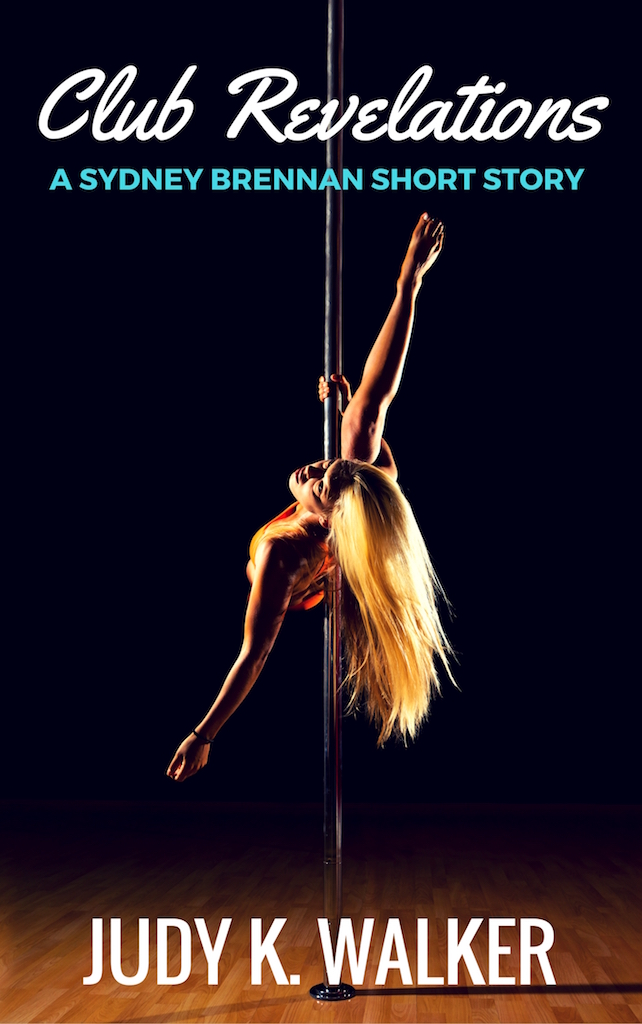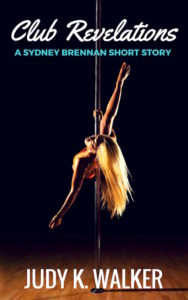 Like the cheesy cover I did for my Newsletter folks? 😉 Don't worry–I will get a real cover before I put the story up for sale. If you're a newsletter subscriber, you should have received an email Sunday with a link to download Club Revelations directly to your reading device of choice. If you can't find the email, drop me a line and I'll resend it. (And if you don't get my Newsletter, you can sign up at the top right of the page.)
However you read it, I hope you enjoy the story, and you have a great holiday! Mele kalikimaka! (Beware if you have Parrothead issues: the link is to the Jimmy Buffett version of the song.)