Do the rest of you get some kind of magic energy infusion with the New Year? A zip and a zing when you flip the page into January? If so, can you tell me where to get it? Assuming it's not illegal in Hawaii (or let's just say not strictly enforced here).
Over the past week or two, I had hoped to revisit my Business Plan (maybe an initial visit— have I done a Business Plan?), come up with a Production Schedule, clear off my desk, and just generally <ahem> Get My Shit Together. Instead, crabby and hunched with an aching clicker arm, I find myself squinting at the new calendar hanging over my desk muttering, January 5th? You've got to be kidding me. But I did manage to do one thing to move forward, aside from pulling out a new calendar. And pushing the latest Sydney Brennan book, River Bound, into the wide world…
Congratulations to Connie from Florida! She won the $25 Ebook Gift Card for participating in the survey from my previous Blog Post. The purpose of the survey was to get a better sense of what you'd like to read, as well as where to find more readers for both Syd and Dead Hollow by learning about similar books. I had a pretty good idea on the former just by sales figures, but it's always good to confirm one's pulling-it-out-of-my-okole, best guess with a non-scientific survey. 😉 I'm still reviewing the titles you shared, and I'll be passing along some of those reader recommendations. But in case you're curious, here's the big picture feedback.
Where do you read? 2/3 of the people who responded read on Kindle, with the remainder evenly split among iBooks, Nook, and Kobo. And what (of my books) do you read? A good chunk of you read and love both series (38% responded, don't make me choose between my book babies). However, the majority of you either read only the Sydney Brennan Mysteries, or read both series but prefer spending time with Sydney to the Dead Hollow gang.
In terms of marketing, Sydney Brennan is pretty straightforward—private investigator mystery—but not easy. There are kajillions of PI mysteries (don't even get me started on female sleuths), so it's very competitive and hard to get eyes. Knowing which PI mysteries Sydney Brennan fans have also read and enjoyed helps me figure out who I should be targeting. And you thought marketing was metaphorical war.
As for Dead Hollow, that's my special series, even though I started it with the intention of writing to market (Origins of the Dead Hollow Trilogy). I chose the kidnapping subgenre because that audience was hungry for more books. Except then I had to go and add a psychic character (Why the Hocus Pocus), which makes DH sound like a supernatural thriller. Psychic paranormal suspense, to be exact. But have you seen those bestseller charts? Witches, some vampires, werewolves, plus shape-shifters, with lots of young women on the covers and the occasional naked man-chest. Not that there's anything wrong with that. Except Dead Hollow takes place in an otherwise realistic, regular, crime fiction world. In other words, I did not hit the market.
This survey confirmed that. Although I received a decent number of recommendations for Syd-similar reading fare, there were just a few for Dead Hollow, with the dominant response being "I don't know" and a fair number of "I've never read anything quite like it." Hunh. So much for writing to market. But I do appreciate the feedback, and I'll keep looking. After all, Dead Hollow is not a unicorn; it'll just take a little more effort. And for the next series, I'll be sure to add a Were Bear. Just kidding! But the man-chest is still on the table. 😉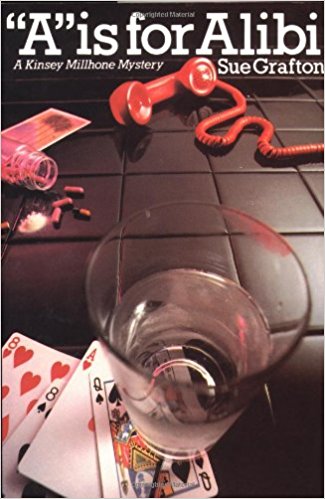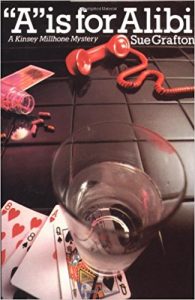 I wanted to leave you this week with a quick remembrance. In case you're in heavy hibernating mode (between the news cycle and the crazy weather, who could blame you?), Sue Grafton recently passed away. I'm sure many of you are, like me, longtime Kinsey Millhone fans. She definitely pushed the doors open wider for the PI genre, for which I'm incredibly appreciative as a reader and a writer. How about that old school, 1980s hardcover version of A is for Alibi? (Millennials, the red object in the background is a telephone, a L-A-N-D-L-I-N-E, not a weapon or retro aerobics prop.) As Ms. Grafton's family noted, the alphabet now ends at Y. This weekend, if you pick up one of her books, don't forget to have a snack at hand. Perhaps Kinsey's fallback, the inimitable peanut butter and pickle sandwich, via The Mystery Writers of America Cookbook.