Congratulations to Sam, Marina, Glenda, Pat, and Christine! (Surname initials just looked too weird.) They'll be getting free ebooks of Braving the Boneyard when it's released on May 19, 2016.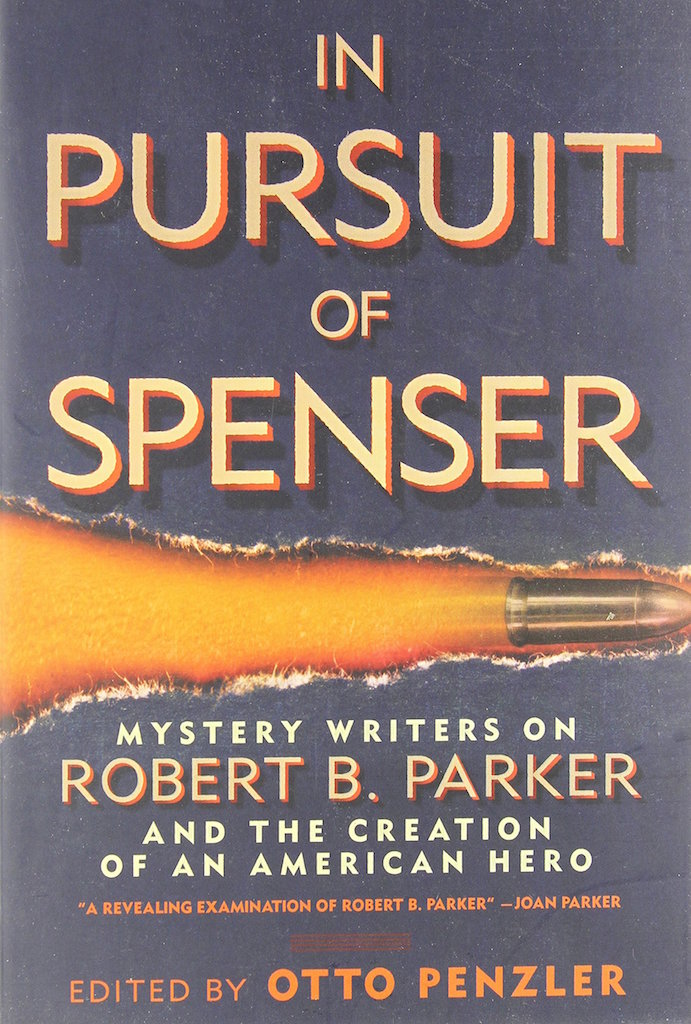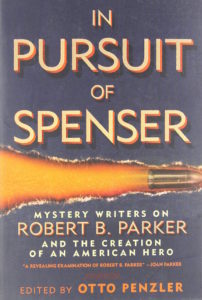 I'll have more news about Boneyard's release next week, but in the meantime, I thought we're due for a Magpie Moment (bits of real life, incorporated into Sydney's adventures), the first one for Braving the Boneyard.
I've been reading In Pursuit of Spenser: Mystery Writers on Robert B. Parker and the Creation of an American Hero, edited by Otto Penzler (although auto-correct keeps insisting his name should be Penciler).
If you're a Robert Parker fan, or a fan of the city of Boston generally, it's worth reading just for the chapter by Dennis Lehane. Not that I have a thing about Dennis Lehane (and my husband coughs loudly in the background).
In the first essay, Ace Atkins, who continued the Spenser series after Robert Parker's death, credits Spenser with helping him figure out how to be his own kind of man.
Atkins says that football dominated his own upbringing:
Those of you who aren't from the South may have a difficult time fully understanding the importance of football there, especially in my native Alabama. Everyone—no, everyone—identifies themselves through their allegiance to either Auburn or the University of Alabama. Children don't get much of a say in the matter, as they are born into Auburn or Alabama families, much in the same way someone is born Jewish or Catholic.

-Ace Atkins, In Pursuit of Spenser
Mr. Atkins's reflections dovetail nicely with Sydney's Tallahassee world and brought to mind a perfect, pre-release Magpie Moment. (Which means I was working while I was reading my library book, right?)
In Braving the Boneyard, Sydney's investigations once again take her west of Tallahassee. In the following scene snippet, Sydney has just arrived at her friend Richard Frey's house for dinner in the fictional town of Hainey. (Richard is an attorney with the Stetler County Public Defender.)
Throwing on a jacket, I followed the smells of barbecue around the house to the backyard. I found Richard standing over the grill, wearing a University of Florida Gators apron over a long-sleeved T-shirt and jeans. Mike was sitting in a lawn chair with a beer on the other side of the grill.

"Sydney!" Richard called out […]

I crossed the patio, and when Richard would have hugged me, I stepped back. "Seriously?" I asked. "The Gators?"

"Like you care," Richard said, and pulled me into a hug. I might not care, but living in Tallahassee's FSU Seminole country, I had to pretend that I did.

–Sydney Brennan, Braving the Boneyard
Yep, Alabama isn't the only place where football is serious business.
I've mentioned in passing (or rather, Sydney has) that an FSU home football game affects the whole city of Tallahassee. You might assume that's because the over forty thousand students are attending the game and later celebrating, or commiserating. (To give you a sense of scale, Tallahassee's 2010 population was around 181,000 people, with over 70,000 of those being students—don't forget FAMU and TCC.)
But involvement goes beyond just the student body. It's one of those things where you don't really understand the depth of emotion attached to an athletic team unless you've lived there.
Throughout north and central Florida, most people fall into one of two camps: FSU fans or University of Florida fans. (South Florida and the University of Miami might as well be another state.)
As with Auburn and the University of Alabama, some people are born into their allegiance. Others matriculate into it—those who moved to Tallahassee to attend FSU (or Gainesville to attend UF) and never left.
My husband and I had no connection to FSU when we moved to Tallahassee, so we felt a bit like anthropologists while we were resident, observing traffic patterns and shopping behaviors on game days (and adjusting our own behavior accordingly). Of course, as I've mentioned before (Magpie Moments: Brennan Fangirl), I did grow up as both a Dallas Cowboys fan (within a certain Washington, D.C., team's sphere of influence) and a lonely, hillside Red Sox fan (Magpie Moments: Damn Yankees).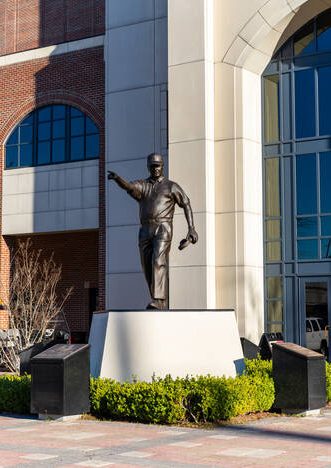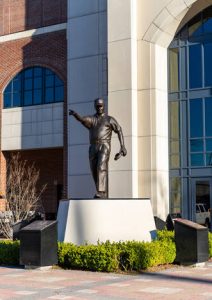 In other words, visceral attachment to a team isn't exactly foreign to me.
In case you've never lived in the South, or in one of the other scattered pockets throughout the United States with a similar love of the pigskin, I'll leave you with a Tallahassee image that says more than my words ever could.
Bobby Bowden, the FSU football coach from 1976-2009, transformed a losing team into a powerhouse that won twenty bowl games and twice won the national championship.
This statue of him was unveiled outside the Doak Campbell stadium in 2004.
'Nuff said. 😉