The United States and I are both Cancers.
That's not an existential or political statement; we were both born in early July. If they weren't so dog-traumatizing, I'd pretend the incessant fireworks were celebrating my arrival. (The little 4.6 earthquake we had last week was probably not in my honor either, even if it was on my birthday.)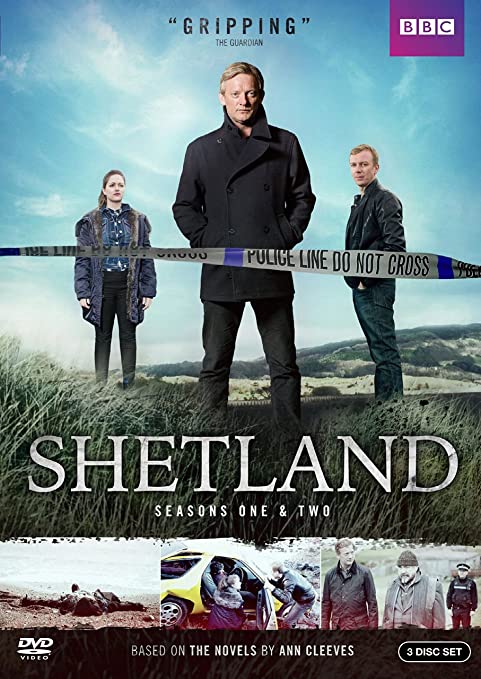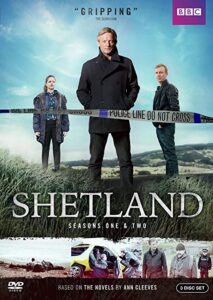 I'm sharing this not to guilt you into belated well wishes, but because a birthday gift prompted this post.
Thanks to the wonderful hubby, we are currently re-watching Seasons 1 and 2 of Shetland, an ITV adaptation of the Ann Cleeves books. And a Story I Love. (Actually, we both love it.)
Longtime blog followers will remember that the series Vera, by the same author, is a previous feature in Stories I Love. And the two shows have a lot in common.
The gorgeous if desolate UK locations are masterfully framed in both shows, here moving beyond Northumberland to Scotland's far northwest, windy Shetland Islands. (Most of Shetland is filmed in mainland Scotland, but some shots, particularly of the ferries, come from the islands.)
These stark settings are likewise peopled with rich characters, committing and suffering crimes that feel tragically inevitable—or at least understandable—rather than contrived, as is common in so many police procedural shows.
And despite being named for its incomparable backdrop, there is no doubt the Shetland series is anchored just as securely by D.I. Jimmy Perez as Vera is by D.C.I. Vera Stanhope.
Detective Inspector Jimmy Perez, channeled by Douglas Henshall, was raised on one of the Shetland Islands. (There are about a hundred, but fewer than twenty are inhabited). Now widowed, he has returned to the islands to raise his teenaged daughter Cassie.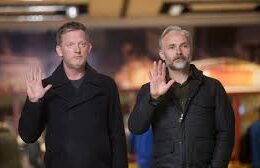 Cassie's biological father, Duncan Hunter, also lives in the islands and acts as a pinch-hitter dad, stepping in when the responsible dad is indisposed.
Duncan is one of those guys who is easy to like, but often seems to be skirting around the edges of the law and his marital vows.
Jimmy isn't afraid to call him out on the latter—after all, it impacts their daughter. (Duncan and Cassie's mother divorced because of his infidelity.) But what will happen when the former becomes an issue? If Duncan finally crosses the line and commits a serious crime, how will Jimmy fulfill his duty as a police officer without damaging his relationship with his step-daughter?
I love watching the Jimmy-Duncan relationship mature (and get more screen time) as the series progresses. Part of the appeal is that the men are so different. Duncan is selfish, self-centered, self-involved… you get the picture. 😉
Perez is a protector of the weak and the helpless, the vulnerable and the misunderstood. (This is true even when everyone around him suspects Shetland's resident "Boo Radley" of murder.) And he has little patience for the bullies who would prey upon them.
Perez's ability to listen without judging is his superpower. Colleagues, suspects, loved ones—they all confess to him and receive his simple benediction: Okay. (That's become a buzzword around our house.) Those two syllables bring a bittersweet relief, a sense that all isn't right in the world and may never be. And yet, maybe it is. Just for a moment.
Henshall is amazing, but Shetland's supporting cast is also superb (again, like Vera). Each character exists independently, with his or her own trials and triumphs, while also reinforcing Jimmy Perez as the center of the show's moral universe. For example, D.S. Alison MacIntosh ("Tosh") is the perfect combination of intelligence and enthusiasm and sarcastic humor, plus a great opportunity for Perez to test his mentor and older brother/father figure chops. He even warns off a loser ex-boyfriend.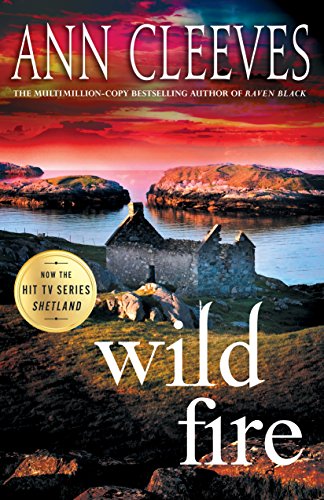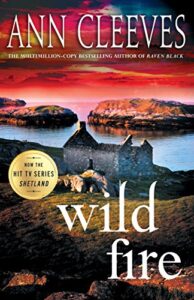 I noted at the outset that this series is adapted from and inspired by the Ann Cleeves books. Cleeves published her eighth and final Jimmy Perez book, Wild Fire, in late 2018. She has said she wanted to end on a high note, getting out while fans still wanted more and before she'd run out of stories to tell. And, presumably, before she'd killed off everyone in the Shetland Islands since they have a total population of fewer than 23,000 people. The Cabot Cove effect. 😂
I haven't finished the series yet, but the books are excellent as well. Cleeves is a master of well-chosen details that evoke place and character without slowing the narrative. I will add the caveat, DO NOT READ THEM OUT OF ORDER. You have been warned.
There are some significant differences between the show and the books. Tosh exists only in the TV show, though Ann Cleeves has said she wishes she'd written her. The timeline is shifted, with the books beginning before Jimmy has met Cassie's mother and her death being much more traumatic. And Jimmy's physical appearance doesn't match up, being consistent with his Spanish name in the books, but in the show… obviously not so much. 
These differences, and the way a few show storylines have been very loosely adapted from the books, upset some readers. Personally, I think of Shetland like Bosch or Longmire, series where the two versions (film and print) live independently in parallel universes. And I rejoice in double the reading and viewing pleasure!
The books may have finished, but the TV show is available through Season 5 and has been picked up for two more seasons. That is, as soon as the Covid Cloud lifts to allow filming. 😜
It seems appropriate to end with a bit of gently hopeful dialogue form the show. Here Jimmy and his daughter sit together, gazing out over the sea, Cassie holding a mug of hot tea.
Cassie:  You still think this is the best place in the world to live?

Jimmy: Yep, of course I do. I mean to say, on a clear day, you can see Norway over that way.

Cassie: There is that.

Jimmy: And… you can see Iceland over that way.

Cassie: The shop? [making a face] I forgot, we don't have one of them. Or a McDonald's.

Jimmy: Uh-huh.

Cassie: Or a Marks & Spencer.

Jimmy: Uh-huh. We've got the sky and the sea, and razorbills and kittiwakes. What more do you want?

—Red Bones, Episode 2

What more, indeed.