How are y'all doing out there in the big wide world? I hope you're not still slamming ibuprofren after digging out from Winter Storm Gail.
If—like me—you were wondering about the whole winter storm-naming thing, Wikipedia says it has happened intermittently in the U.S. since the 1700s, but really kicked in with the Weather Channel in the 2010s. This Mental Floss piece explores, Why Is It Controversial to Name Winter Storms?
Webcams showed that, in solidarity, Hawaii Island had at least a dusting of snow on Mauna Kea last night. Meanwhile, we had four inches of rain in Lower Puna. Well, four inches that managed to land in our rain gauge, that is. The rain was so sideways-crazy that cardboard boxes on our lanai filled like poorly designed dog bowls. And wow, was it loud on our metal roof!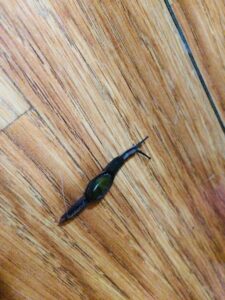 We had a brief break this morning, long enough for a desperate Fred to do his doody in the yard, but now it's back again, which means our internet is sketchy.
Ah, winter in East Hawaii!
Marked by the sounds of relentless rain and generators, the sight—and funky scent—of everything you own slowly disintegrating, and the feel of damp fabric and sticky floors. And also, semislugs in the house. (That's not a shell on its back; it just looks like a shell.) How?? How do these snotty buggers sneak inside, suddenly appearing in the center of a room??
I published a blog post exactly one year ago about the arrival of winter in East Hawaii, Why I Didn't Wake When Feral Pigs Ate Our Trash. It includes additional photographic evidence of said slugs, plus other winter trauma I had forgotten. And for the record, our refrigerator is still wobbling on its last legs!
In case the multiple sideways trips in this post so far weren't a clue, I am currently struggling to get things done. Well, to get specific things done, versus whatever happens to land in front of my face. I'm betting many of you can sympathize—the holidays, Covid, the random challenges unique to each of our day-to-day lives. And then, winter happens.
Nothing makes me daydream about hunkering down with hot beverages and books and flipping the rest of the world the Back-Off Bird like winter weather. So rather than try—and fail—to be coherent, today I'm going to share some daydreaming with you.
Imagine you could go on a reading retreat for the rest of 2020. What would you read?
I have so many unread books on my Ereader and my bookshelves that I actually feel… [whispers] a little guilty.
But we will not allow guilt on our reading retreat!
That's why instead of spending brain power prioritizing which unread titles to read first, I'm whipping out some stream of consciousness: series that I've sampled and enjoyed but haven't finished. Feel free to use my list as inspiration, or grab a notepad and start on your own.
I'm not including covers or links (remember that spotty internet?), but the websites Fantastic Fiction and How to Read Me are both great resources for series reading order and links to specific books. Here we go…
Ian Rankin: the Edinburgh-based cop John Rebus stars in twenty-three books, plus piles of short stories.
James Lee Burke: the New Iberia, LA, series featuring sheriff's deputy Dave Robicheaux is also twenty-three books deep. I haven't even dipped a toe into his Holland Family series.
Laura Lippman: best known for her excellent standalones, but don't miss her dozen Tess Monaghan Baltimore PI books.
Alafair Burke: also best-known for her standalones (I've only read a few), but she has five books with NYC detective Ellie Hatcher.
Ace Atkins: the Quinn Colson series features a young vet-turned-sheriff in Northeast Mississippi. He also writes the new Spenser books featuring the late Robert Parker's Boston private investigator.
Tami Hoag: I don't always enjoy her books (some have romance elements that push my buttons in a bad way), but the ones I like I love, including her Minneapolis-based Kovac and Liska police procedurals.
Joe Lansdale: His 1980s East Texas-based Hap and Leonard series was the subject of an early Stories I Love blog post, and an adaptation lasted three seasons on TV. I haven't seen it yet, but I've heard good things.
Craig Johnson: His Wyoming Sheriff Walt Longmore series was a Stories I Love, Onscreen and on the Page blog post and I look forward to finishing the sixteen books in the series. (And maybe the final three seasons of the TV show, if I can talk my husband into revisiting it or find some alone TV time.)
Robert Crais: Smart-assed Los Angeles PI Elvis Cole and his scary friend Joe Pike appear in eighteen or so books. Crais also weaves LAPD cop Scott James and his K-9 Maggie into a couple of books.

 

Denise Mina: She may be best known for her standalones, but I started with her Garnethill trilogy. It and the Alex Morrow police procedurals are Glasgow-based.
Val McDermid: the Scottish crime writing legend has four series, plus standalones. Her best known series is probably the eleven books featuring criminal psychologist Tony Hill and DCI Carol Jordan.
Karin Slaughter: If she wrote it, I'll read it! I love her standalones. The reading order for her intertwined Will Trent and Grant County, Georgia, series can be confusing, so be sure to check out one of the cheat sheet resources above.
Walter Mosley: Another over-achiever with four series, Mosley is best known for the fifteen books featuring black detective Easy Rawlins books in 1940s-1960s Los Angeles.
Harlan Coben: I prefer his standalones, but the books I've read featuring sports agent/detective Myron Bolitar are fun as well.
John Connolly: Former NYC cop-turned private investigator Charlie Parker squares off against bad guys both human and supernatural in eighteen supernatural crime thrillers. (The Irish author also has an excellent series of children's books if you need a palate cleanser.)
Ann Cleeves: She has the distinction of appearing twice in my Stories I Love blog posts, once for the Jimmy Perez books, adapted for TV as Shetland (do not read these out of order!), and once for the Vera Stanhope books, adapted as

—you guessed it

—

Vera

. She also penned the Inspector Ramsay series and George & Molly Palmer-Jones series, and this year started the Two Rivers series.

Attica Locke: I've read the first book in each of her Texas-based duets, the Jay Porter series and the more recent Highway 59 series, starring black Texas Ranger Darren Matthews.
Joe Ide: He has five books in his Los Angeles-based series featuring Sherlockian black detective genius Isaiah Quintabe, IQ.
Rachel Howzell Hall: In addition to a handful of standalones, Hall's LA Detective Eloise Norton appears in four books. (It's nice to finally spend some time with a black female detective.)
Lee Child: I have to admit, I was resistant to trying the Jack Reacher series, but I'm glad I did. These buggers move! And there are twenty-five of them.
Lisa Unger: Another author best known for standalones, but I'd really like to finish her linked, small town The Hollows books with their dash of woo-woo, and check out her Ridley Jones duet while I'm at it.
Louise Penny: Her Quebec-based Chief Inspector Armand Gamache series is sixteen books rich with setting and a deep cast of characters.
Donna Leon: Another setting-rich series (and the food!), her Venice Commissario of Police Guido Brunetti appears in a whopping twenty-nine books.
Chuck Wendig: Chuck bounces all over the place genre-wise, but his potty-mouthed psychic Miriam Black books are calling my name. And I can't wait to read (when it's published) his follow-up to the apocalyptic epic Wanderers.
Okay, I am stopping now, or my consciousness will continue to stream! Did I say, retreat until 2021? Yeah, I'm definitely going to need some additional time. How about you? 😂